Profiles: Margaret Courtwright Brown (1904–1994)
ON August 29, 2013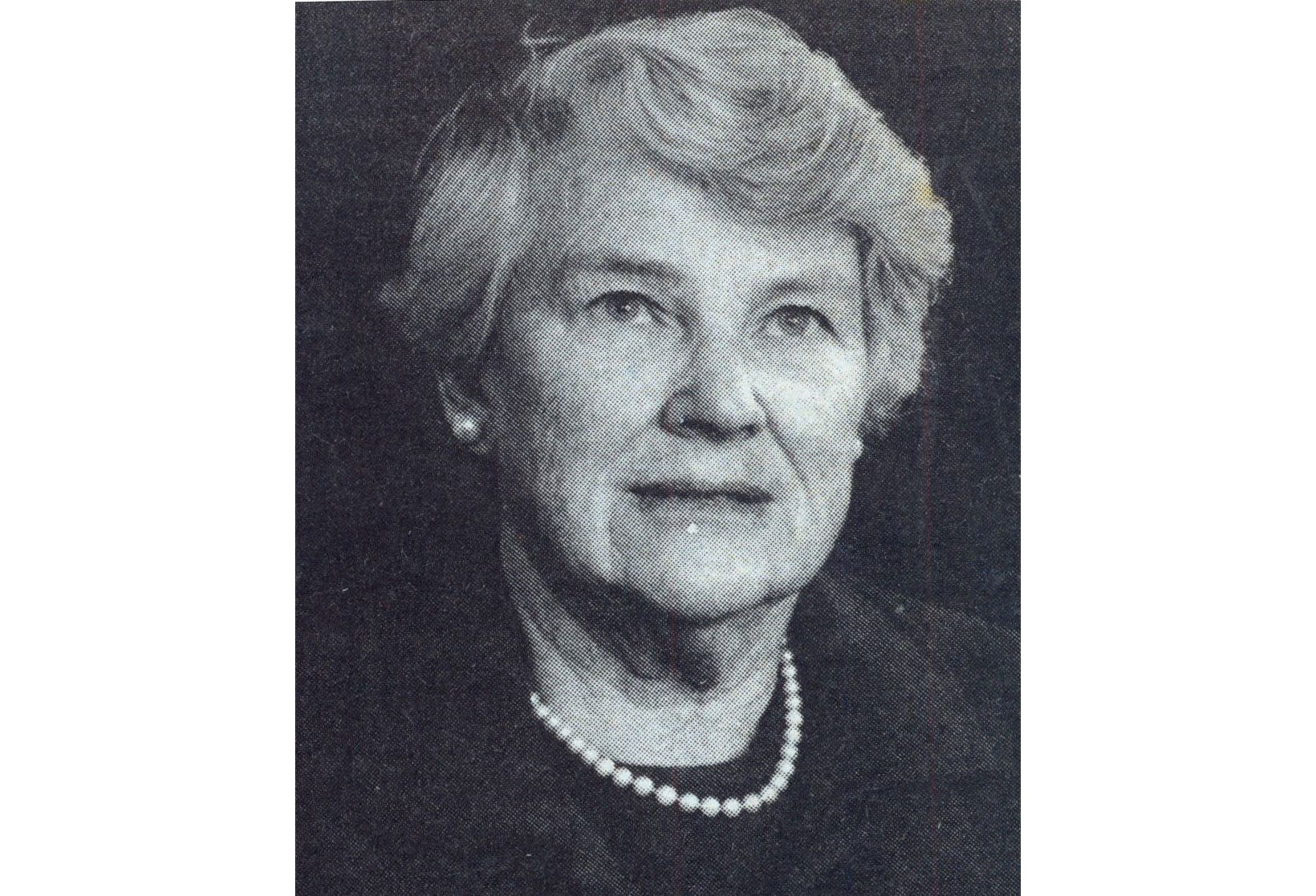 by George Willauer
Feature Photo (above): Margaret C. Brown, The Pictorial, February 8, 1977. LHSA

Margaret Brown, who was president of the Florence Griswold Museum and the Lyme Historical Society from 1968 to 1974, was a real character. Wearing overalls and real pearls astride her tractor, she loved to mow her lawns and those around the Florence Griswold house.
In her well-maintained blue pickup truck Margaret Brown hauled trash to the dump and nurtured a very large vegetable garden. In 1975 her pumpkin weighing 165 pounds won second prize in the Yankee Pumpkin Derby. Hard physical work was part of her daily routine. One day she called up a friend to explain that before breakfast she had put old shutters she had bought for the Florence Griswold house in a boiling cauldron to remove the paint.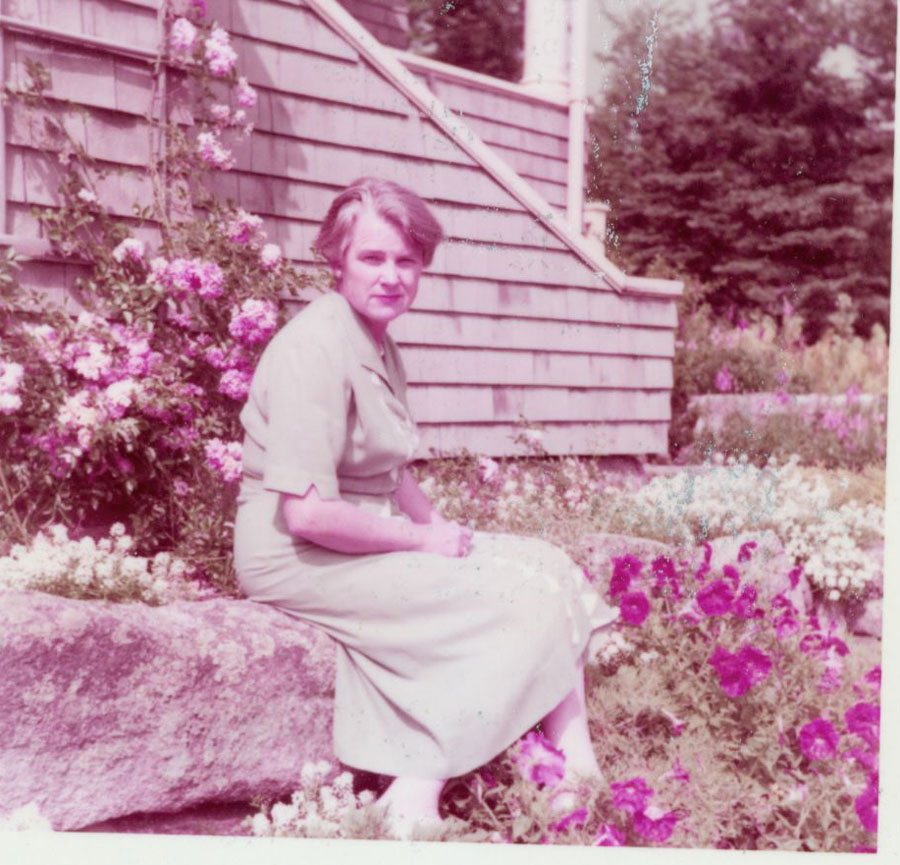 Margaret Brown, 1958. Courtesy Ludington Family Collection
Margaret Brown also had a sharp tongue which she used to express her strong opinions, not always to her advantage or others. At one time she was notorious at the Town Hall for telling the selectmen how to run the town, but she was more constructive when she wrote to the President of the United States suggesting that we "commemorate l976 with a permanent contribution, a rededication to liberty, equality, and justice for all."[1]
If Margaret Brown was a character she was also a lot of other things. Born in California in 1904 and educated at the University of California at Berkeley and Colorado College, she was very proud of her marriage to Yankee John Crosby Brown, a descendent, she believed, of Rev. Moses Noyes, Lyme's first minister, and of the Browns who founded the venerable Brown Brothers Harriman investment firm. She had many friends, although one of them reported that she was one of his best friends and one of his most difficult.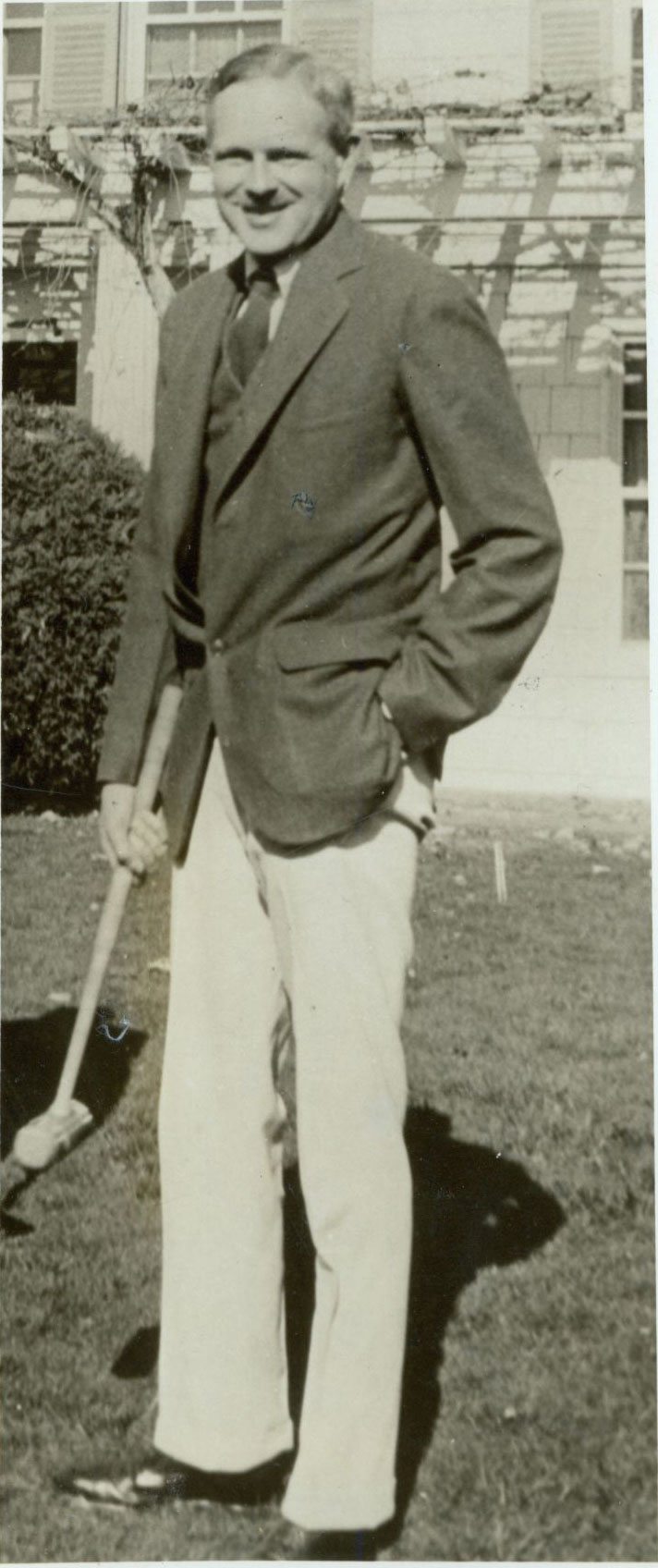 John Crosby Brown, Courtesy Ludington Family Collection
While she suffered no fools and would fire an incompetent worker on the spot, Margaret Brown also was very generous in a variety of ways. As she pioneered the restoration of the former William Noyes, Jr. house (now the Florence Griswold Museum) in the sixties and seventies, she acquired many of the materials and paid for their application. She gave generously to a variety of causes, many associated with the less fortunate, others for conservation and liberal political matters. In her later years she used the vegetables from her productive garden to make meals for ill or aged friends and acquaintances which she delivered on a regular basis.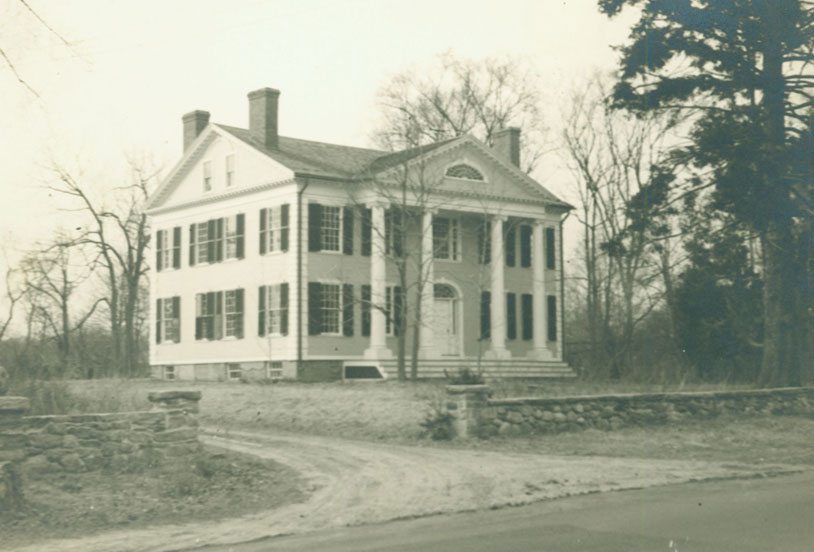 Florence Griswold home, LHSA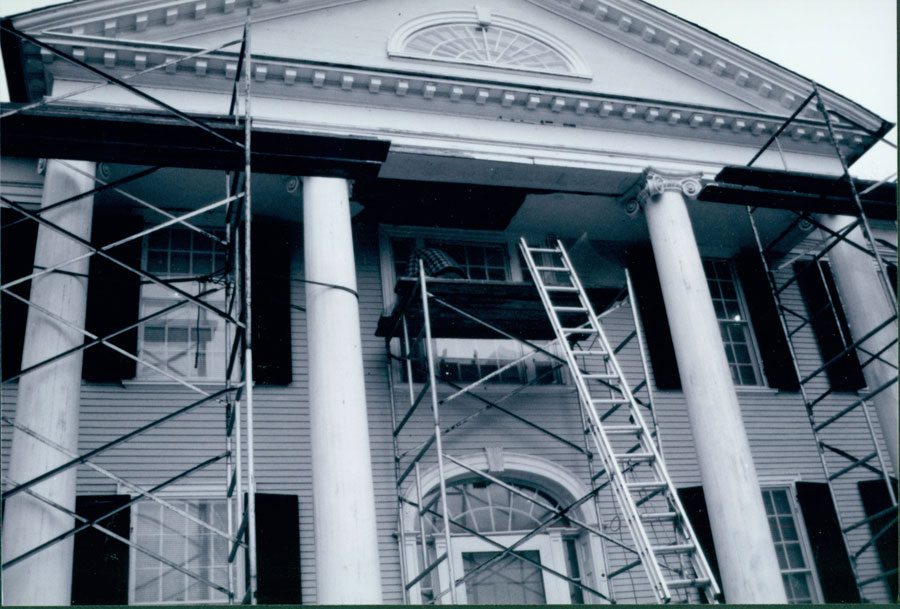 Restoration of Florence Griswold home, 1969. LHSA
Although Margaret Brown had restored an eighteenth century house in East Lyme, she once said that when she became president of the Florence Griswold Museum and Lyme Historical Society as a five dollar annual member she had never been in an 1817 Greek Revival house. With only 125 members to rely on, she faced prodigious challenges as president. Her priority was restoration of the long neglected home of Florence Griswold.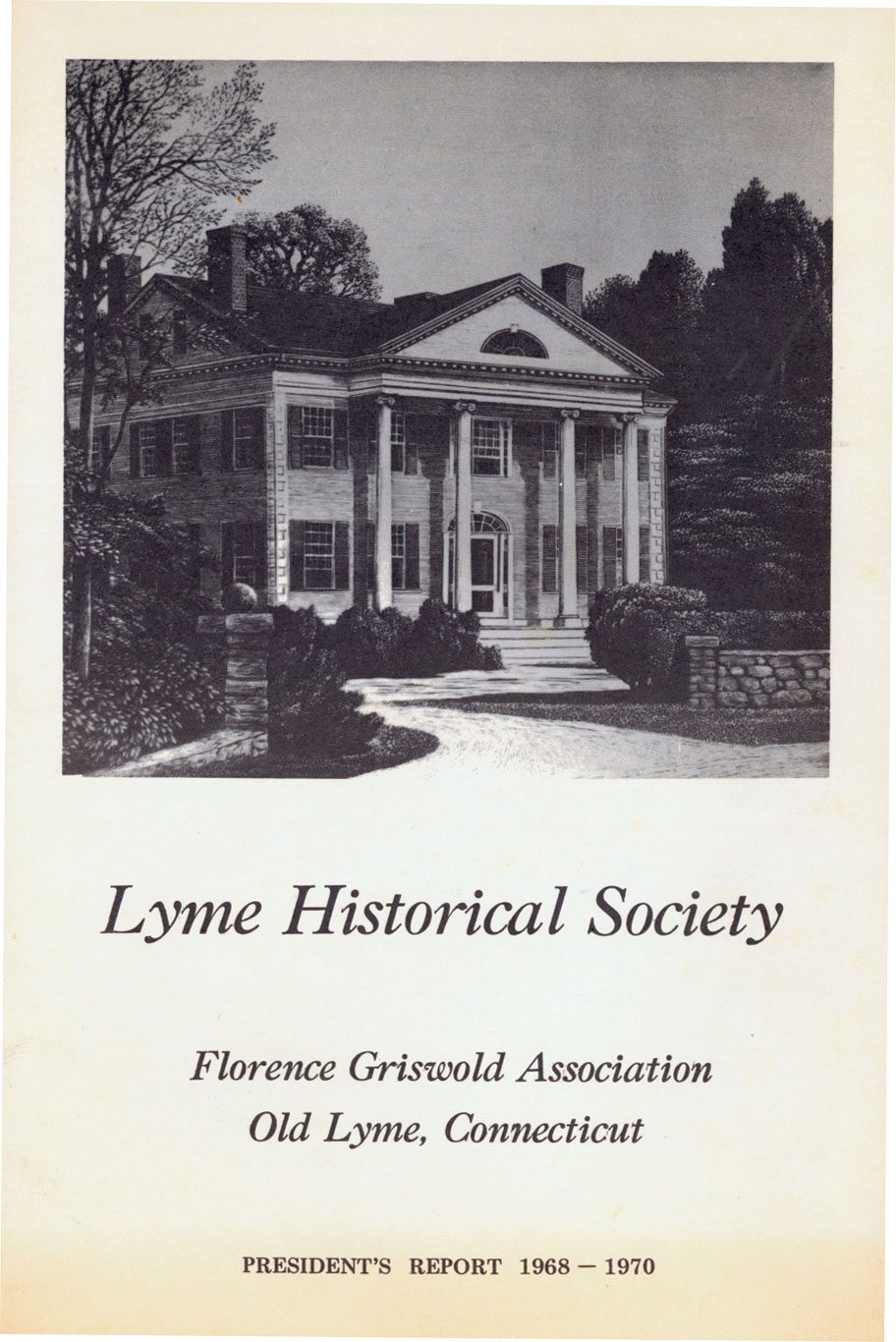 President's Report, 1968-1970, Lyme Historical Society-Florence Griswold Association, Inc. LHSA
Inside she found crumbling chimneys, bees in the attic, closets stuffed with abandoned clothes, and the cellar full of trash. Quickly she enlisted local carpenters, some of whom contributed their time pro bono, and friends who provided needed cash for the restoration. For the next few years she concentrated on restoring the house, its grounds, and interior. Further funding came from several sources including the Connecticut State Historical Commission and the Connecticut Commission on the Arts as well.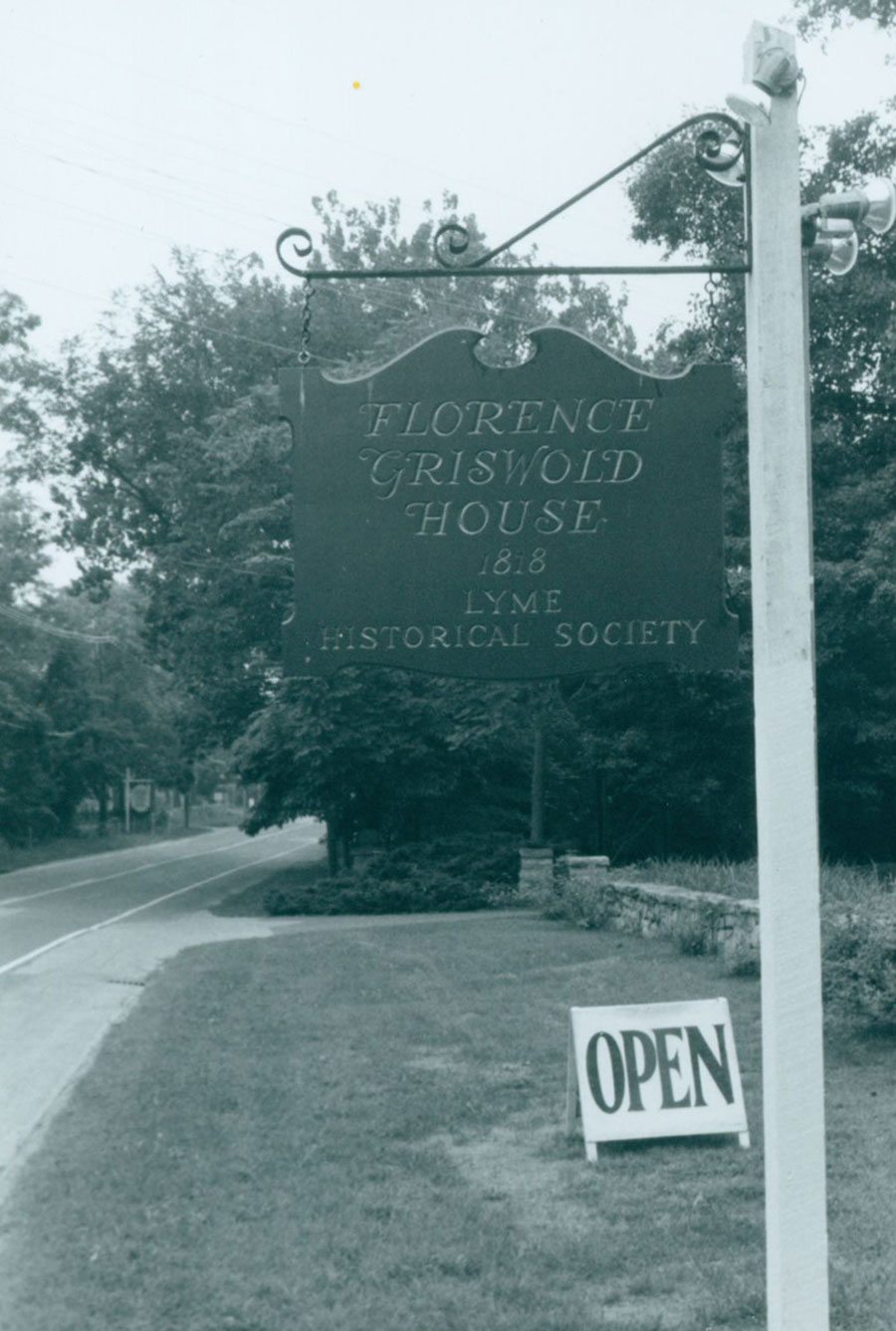 Florence Griswold House, 1970. LHSA
As president Margaret Brown was ambitious for the Museum in several ways. Mindful that major museums are involved with research, publication, and professional leadership, she began with the indexing of the Lyme Land Records for the years 1790­–1868. Next, in 1970 she arranged the publication of Miss Florence and the Artists of Old Lyme by Arthur Heming,[2] one of the Lyme Impressionists, whose manuscript she found in the attic. The next year brought the appointment of the Museum's first director, Tom McKay, and the same year Mrs. Brown learned her application to include Lyme Street on the National Register of Historic Places was approved.
Focusing on the Lyme Impressionists the Museum sorely needed to enrich its collection so in l973 the president organized the Art Recovery Committee charged with retrieving paintings by local artists. Recognizing the possible need for more land and space, in 1974 she raised $76,000 to buy the house of John Marvin Huntley. It was built in 1795 by Gurdon Clark and in 1959 bought by Jane Carter, an architect, who remodeled it and moved it to its present site. The house is now called the Huntley- Brown House in honor of Margaret Brown who initially arranged it for the director's residence and office space.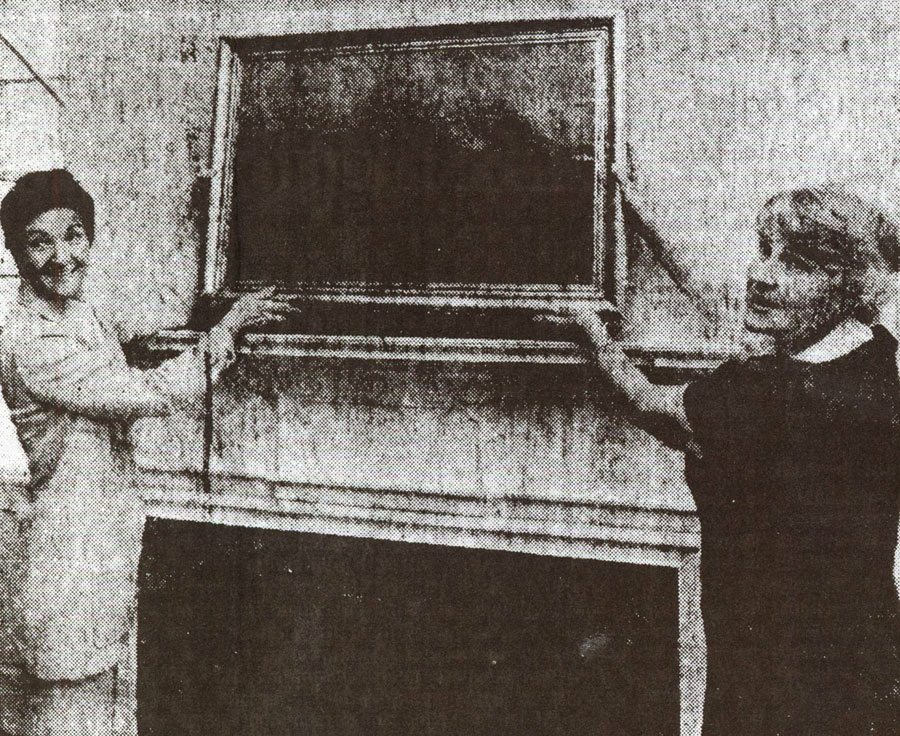 Margaret Brown and Patricia Shippee with painting by Carleton Wiggins of the Connecticut River, donated during the Art Recovery Campaign, 1973. LHSA
Over the years this remarkable woman developed a passion for house restoration. In addition to her focus on the Florence Griswold House from 1968 to 1970 and the Sylvanus Griswold house in East Lyme in 1938, she bought, restored, and remodeled the Cables homestead in East Lyme in 1940, the Haven homestead, also in East Lyme, in 1949, and between 1956 and 1959 the Richard Noyes house built in 1810.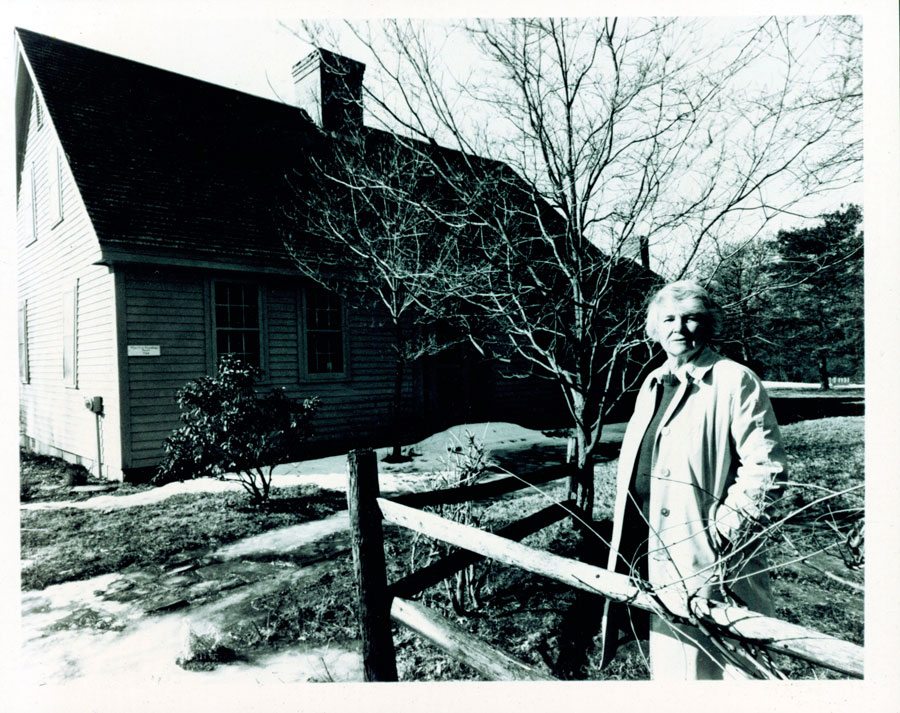 Margaret Brown and the Huntley-Brown house, ca. 1974. LHSA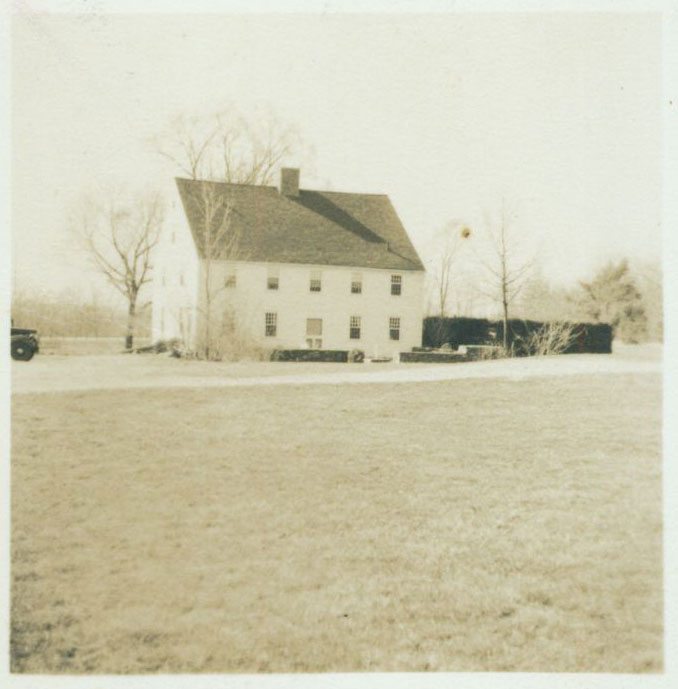 Sylvanus Griswold house, Society Road, East Lyme. LHSA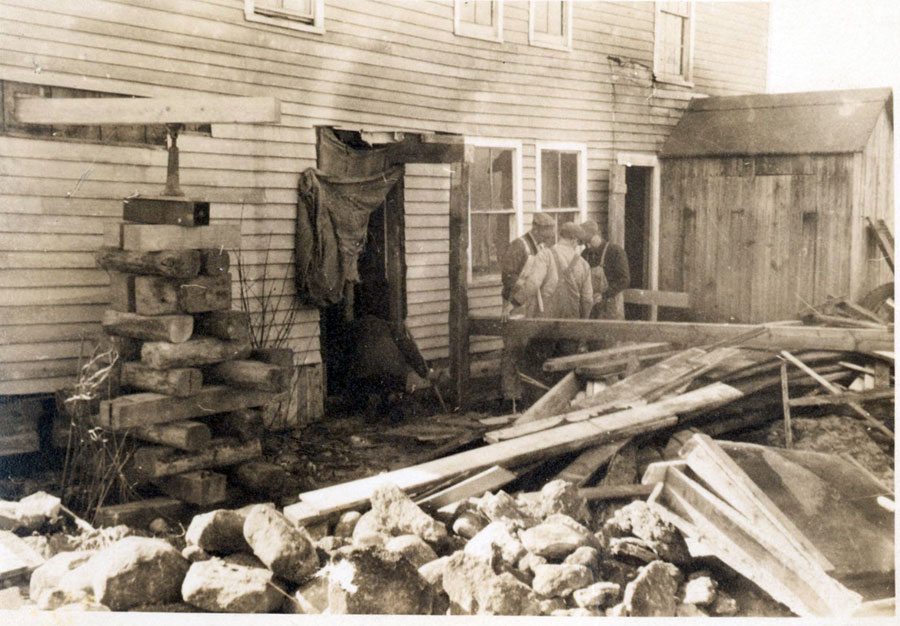 Renovation of Sylvanus Griswold house, 1938. LHSA
The latter, on Lyme Street, she remodeled extensively, retaining the name "White Farms" given by previous owner Judge Walter C. Noyes. There for many years she lived and entertained graciously in the grand style. Thanks to her it is on the National Register of Historic Places. A few years before she died Mrs. Brown bought and remodeled the house built by Almon Bacon, also on Lyme Street, from the estate of Betty Ebert, daughter of Charles Ebert, one of the Lyme Impressionists.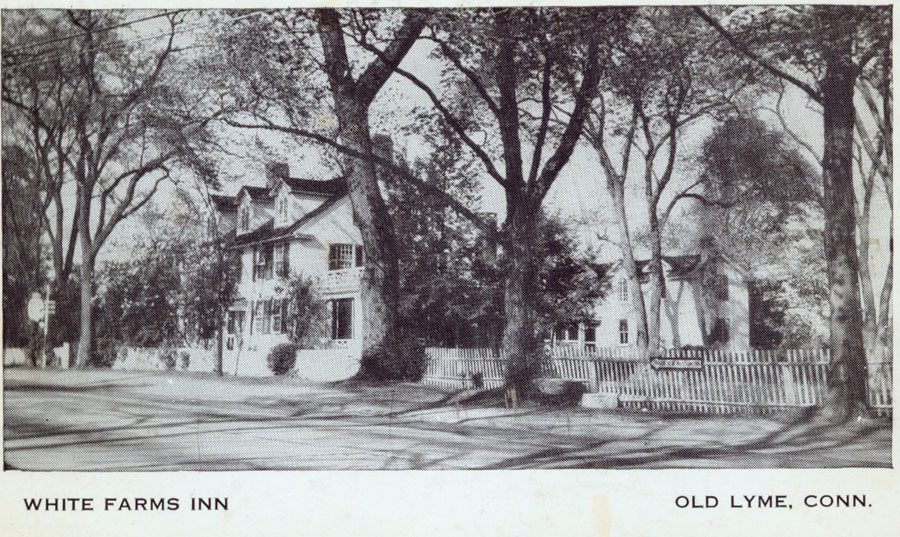 White Farm on Lyme Street became an inn in 1950. Postcard, LHSA
With continuing energy and foresight Margaret Brown turned to other civic enterprises when her term as president of the Museum ended in 1974. The same year she became Chairman of the Old Lyme Bicentennial Commission, which she enjoyed thoroughly, arranging programs, a play, celebrations, and the publication of a book of essays titled A Lyme Miscellany. Ever the public servant, she belonged to and contributed to a number of non-profit organizations, and in 1977 the Town of Old Lyme named her the Citizen of the Year. For a Californian by birth who adopted Old Lyme with fervor and love, this was indeed a fitting capstone for a remarkable career of philanthropy.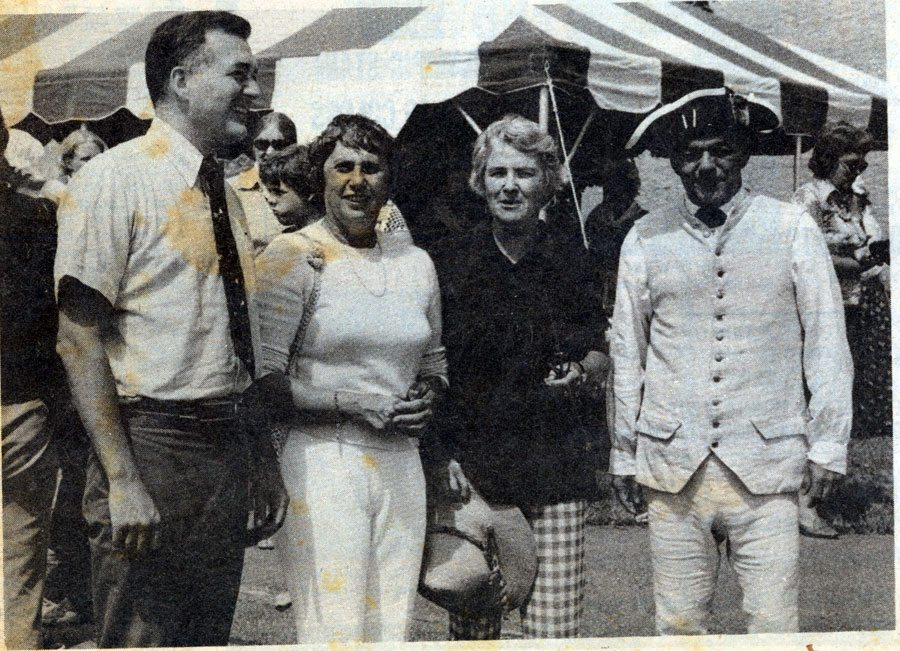 Margaret Brown with Governor Ella Grasso at Bicentennial event, The Pictorial, September 9, 1975. LHSA
Understandably, Margaret Brown received many encomia upon her retirement as president of the Museum. Three of her successors as president, including Daniel Woodhead, George Tatum, and Joan Sillin, were of one voice in praising her extraordinary accomplishments, her faith in the face of adversity, and her vision. Joan Sillin, president of the Museum between 1988 and 1982, described her presidency this way: "You alone had a comprehension of what could be done, determination that it could be done, and courage to see that it be done."[3]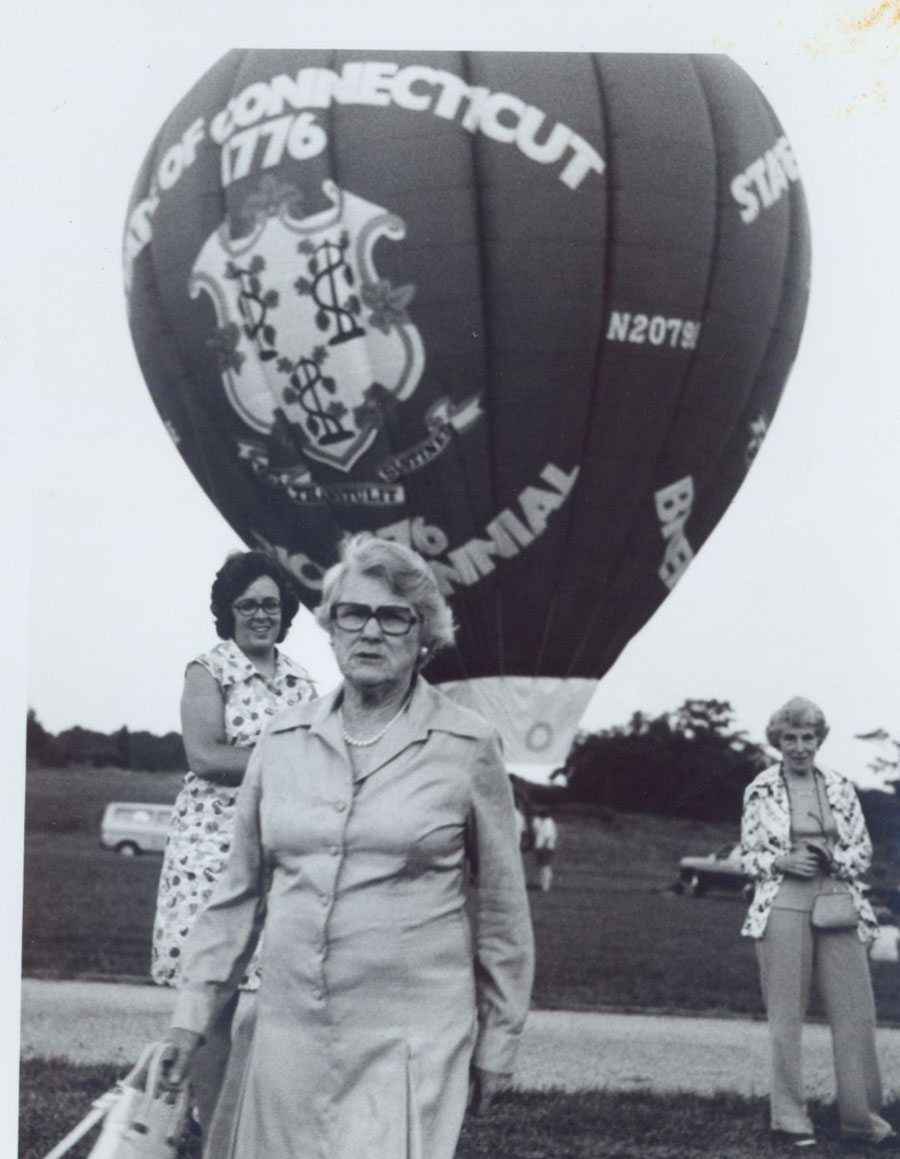 Margaret Brown, Bicentennial celebration, 1977. LHSA
In her parting remarks as president of the Museum in 1974, Margaret Brown quoted Walter Gropius, the renowned Bauhaus architect and scholar, who charged his students at Harvard to: "Act as if you were going to live forever, and cast your plans way ahead. . . .If your contribution has been vital there will always be someone to pick up where you left off, and that will be your claim to immortality."[4]
In retrospect Margaret Brown's contribution has certainly been "vital" as one looks at the aggregate of the Museum as we know it today. It is indeed impressive and fortunate that many volunteers and friends have picked up where she left off and burnished her extraordinary legacy.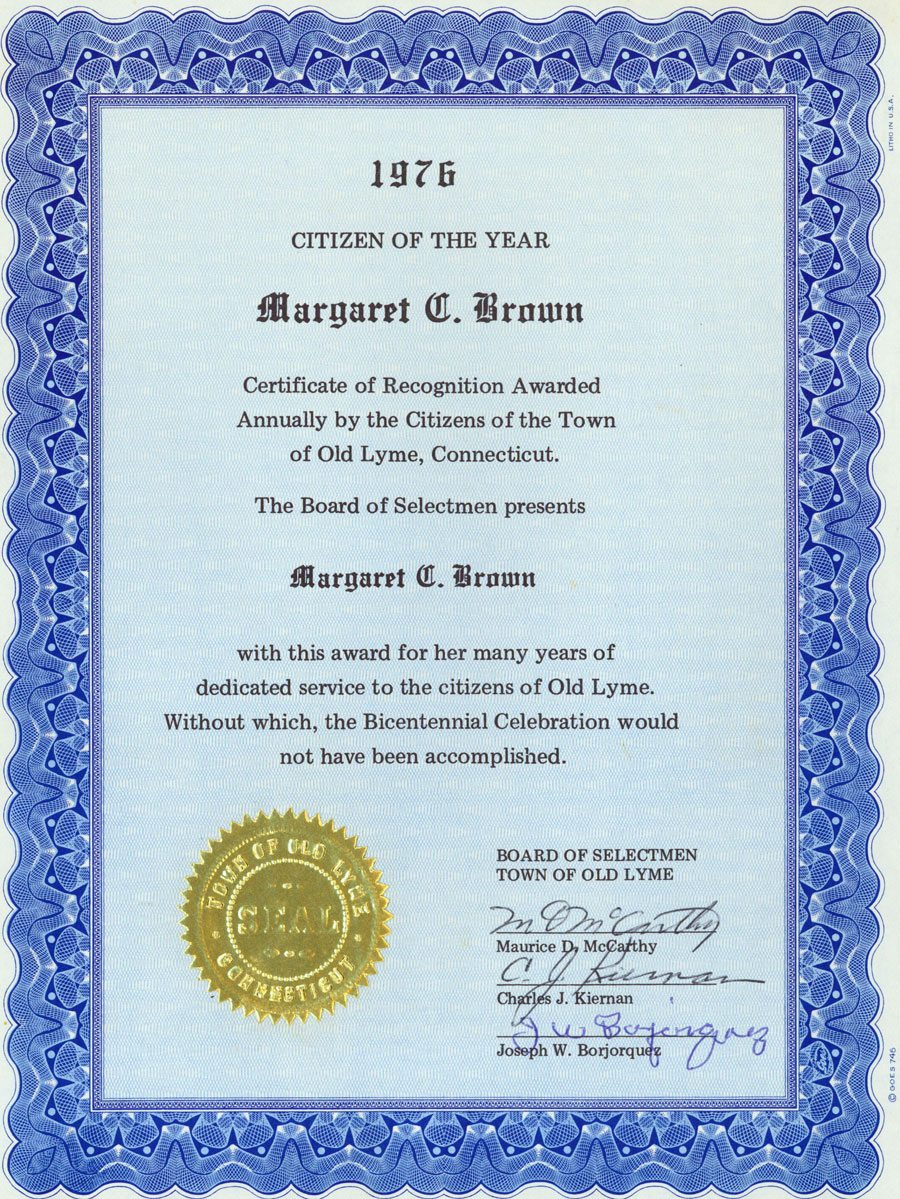 Margaret Brown, Citizen of the Year certificate, 1977. LHSA
Guest Contributor: George J. Willauer
---
[1] Margaret Brown. Letter to President Gerald R. Ford. August 30, 1974. Margaret Brown Papers. LHSA.
---
[2] The Florence Griswold Museum republished Arthur Heming's Miss Florence and the Artists of Old Lyme in 2013. The second edition includes a Preface by Director Jeffrey W. Andersen.
---
[3] Joan Sillin. Letter to Margaret Brown. September 17, 1989. Margaret Brown Papers. LHSA.
---
[4] Walter Gropius, as quoted by Margaret Brown at the Annual Meeting of the Lyme Historical Society, May 11, 1974. Institutional Archives. Florence Griswold Museum.