Profiles: Elsie Ferguson (1883–1961)
ON March 22, 2013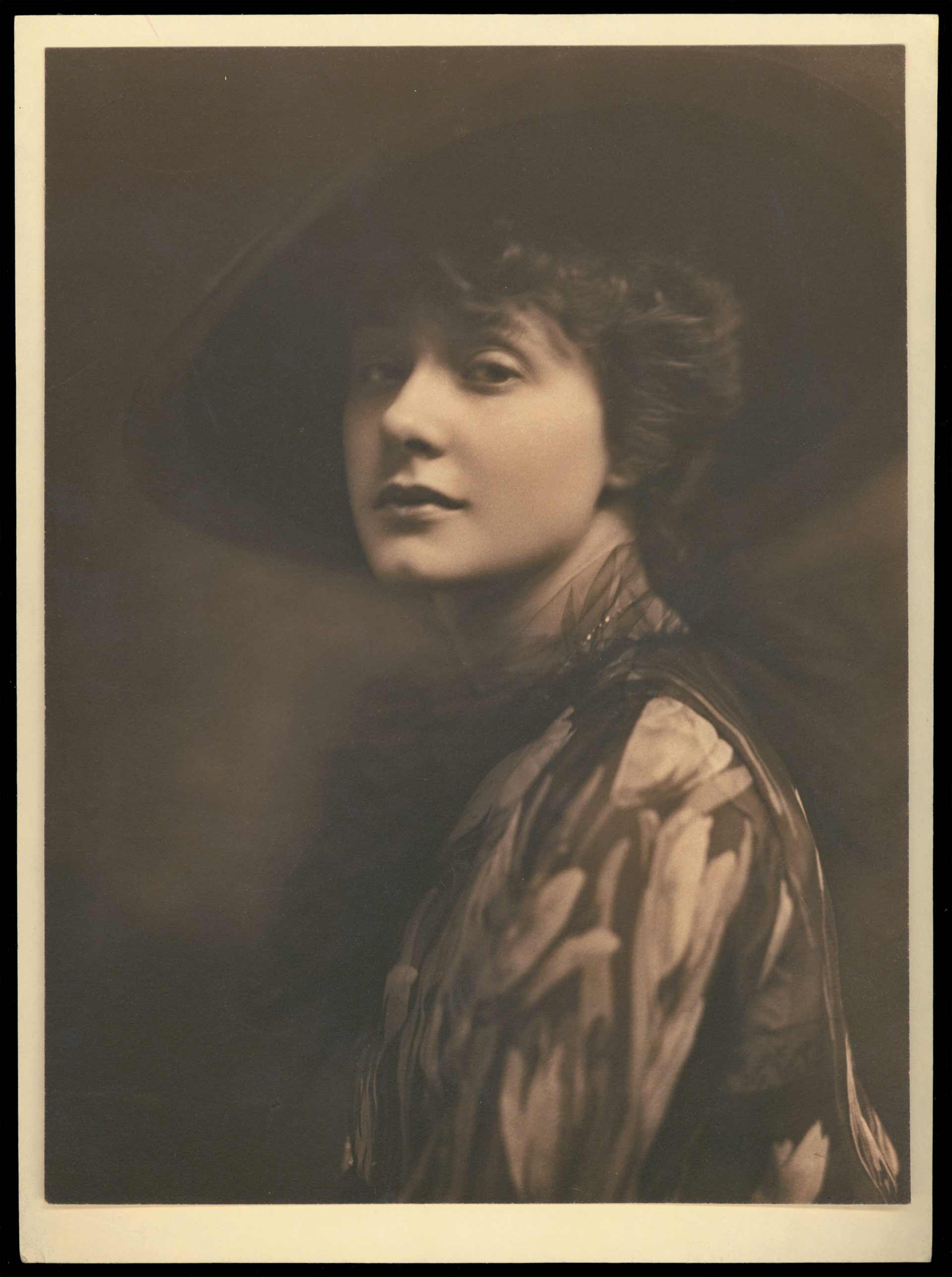 by Carolyn Wakeman
Elsie Ferguson, a celebrated Broadway actress and star of the silent screen during the World War I era, settled in Old Lyme in 1955. The gabled front addition to an historic tavern became her final home.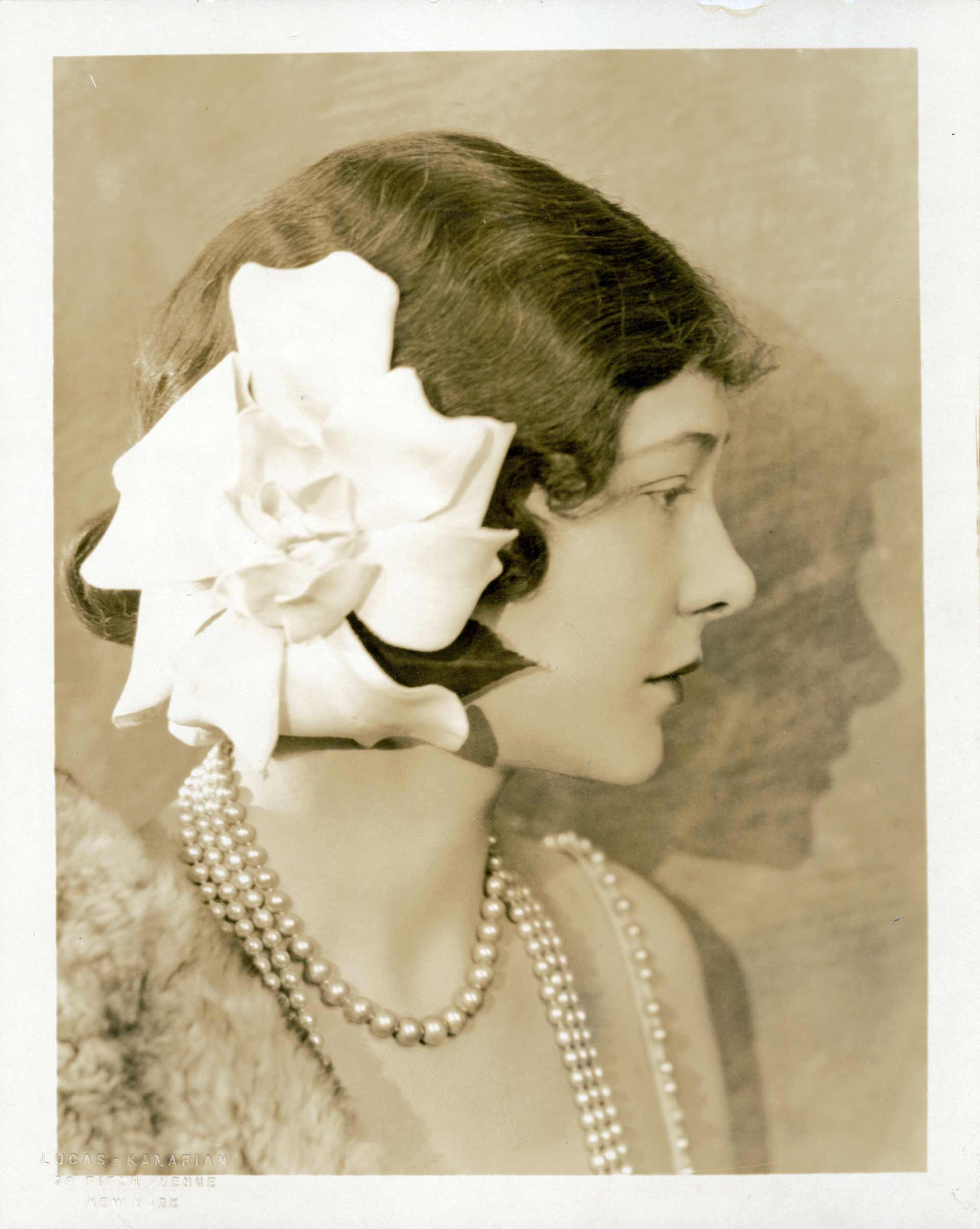 Elsie Ferguson. LHSA
Stage and Screen
Known as the "aristocrat of the screen," Elsie Ferguson grew up in Manhattan, the daughter of a wealthy lawyer. Her stage career blossomed after she found a speaking role in The Girl from Kay's, which opened at the Herald Square Theater in 1904. A string of successive Broadway roles displayed her beauty, talent, and versatility.
Elsie Ferguson. LHSA
After appearing as Portia in Shakespeare's The Merchant of Venice in 1916, she accepted a three-year contract with Paramount Pictures. Barbary Sheep (1917) marked her film debut. Her first appearance before the camera, she said, "was the most painful thing I have ever known in life," but she soon became recognized as the most visually alluring actress of her generation.[1]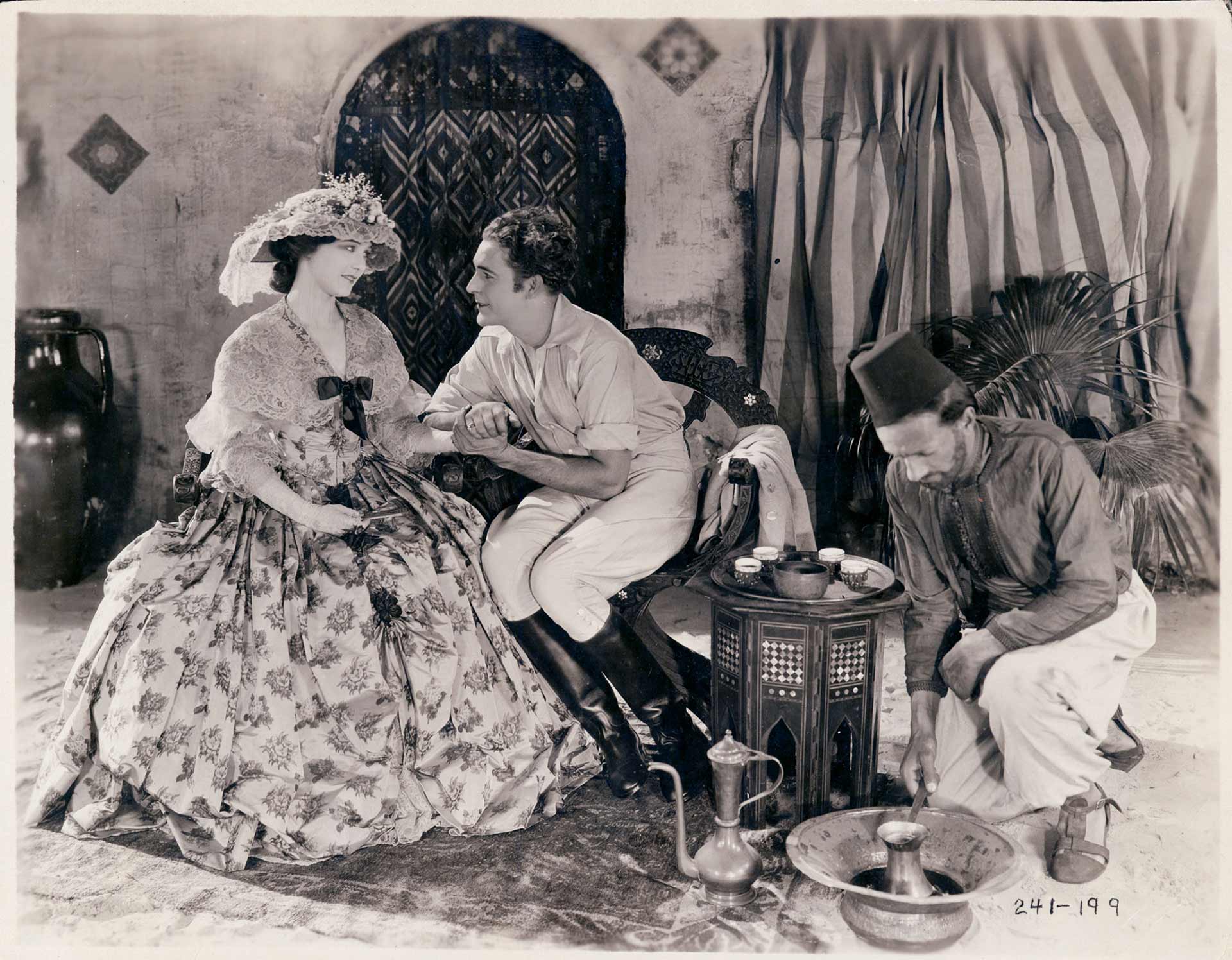 Elsie Ferguson. LHSA
Only one of her many silent movies survives. Witness for the Defense, a romantic melodrama released in 1919, cast her as an English woman entangled in an abusive relationship while visiting her father in India, The film's reflection of racial attitudes, class bigotry, and alcohol abuse on the eve of Prohibition still draws the attention of film historians a century later.[2]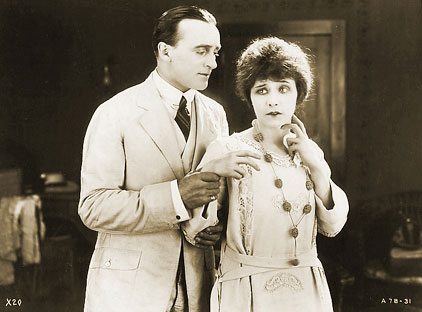 Elsie Ferguson, Witness for the Defense, 1919.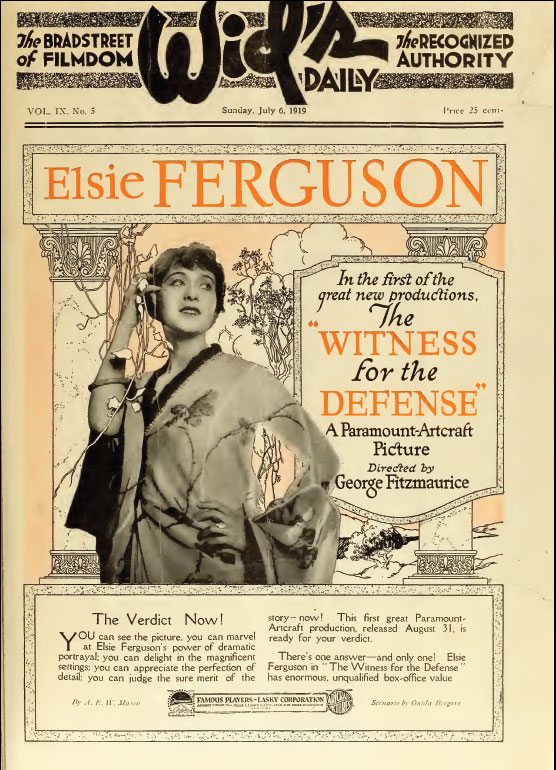 Elsie Ferguson, Witness for the Defense, 1919.
[responsive_vid]
Miss Ferguson made her first and only "talkie," Scarlet Pages, in 1930.[3] By then she owned a villa on the Riviera and had moved through three divorces. The prospect of marrying again at age 49 prompted her retirement from the stage.
The press described her fourth husband Victor Egan as a wealthy Irish sportsman who "owned several yachts and kept a racing stable near Liverpool." For their registry office marriage in London in 1934, she wore "a long, tight-fitting beige spring coat, a fur necklet, and muff, and a large black straw hat."[4]

"Elsie Ferguson Weds at 49″,Herald-Journal, April 21, 1934
White Gate Farms
After continuing stage triumphs and Hollywood successes, the "perennially lovely American actress" found welcome seclusion on a scenic 100-acre estate in East Lyme called White Gate Farms. She told a visiting journalist for The Milwaukee Journal in 1943 that her working farm sold 150 eggs a day to the government.
The reporter described the surroundings as bucolic and luxurious: "The house on White Gate farms is filled with fine old pieces of period furniture. Sofas and chairs are covered in needlepoint and antique velvet and wonderful damasks in deep red. Three dogs have the run of the place. Daily at 4 p.m., one of the maids fixes tea in the English tradition."
White Gate Farm
For thirteen years in East Lyme, Elsie Ferguson was known only as Mrs. Victor A. S. Egan. When the wartime "dimout" on Broadway lifted, she emerged briefly from her chosen seclusion to perform inOutrageous Fortune, written by an East Lyme neighbor. She told the reporter covering her return to the theater: "I am a little bewildered—seeing my name in lights again." Once people recognized her, she added, she would have to be very careful about how she looked—"hair and all that sort of thing."[5]
Bee and Thistle
In Old Lyme Elsie Ferguson is remembered not for her illustrious Broadway and Hollywood career but for the name she gave to a local inn. Her friend Henrietta Greenleaf Lindsay, a decorator from Hartford, had moved into a gracious home on upper Lyme Street and opened a shop in the Morley building on Main Street. For a few years Mrs. Lindsay rented extra bedrooms to guests, some of them teachers who needed housing near the Center School. When she decided to open a hotel, the Ferguson clan's crest, which featured "a bee on a thistle," gave the inn its name."[6]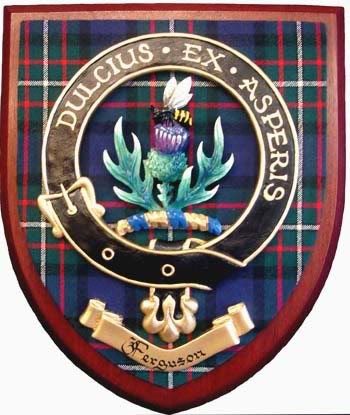 Crest of the Ferguson Clan
Built originally by Judge William Noyes (1728–1807) for his son Dr. John Noyes (1756–1808) in about 1795, the hotel just north of today's Florence Griswold Museum had long been the summer residence of New York's Episcopal bishop Rev. William T. Sabine. A subsequent owner remodeled the historic dwelling and moved it back from the street. Today the inn still retains the Bee & Thistle name that derives from Elsie Ferguson's family crest.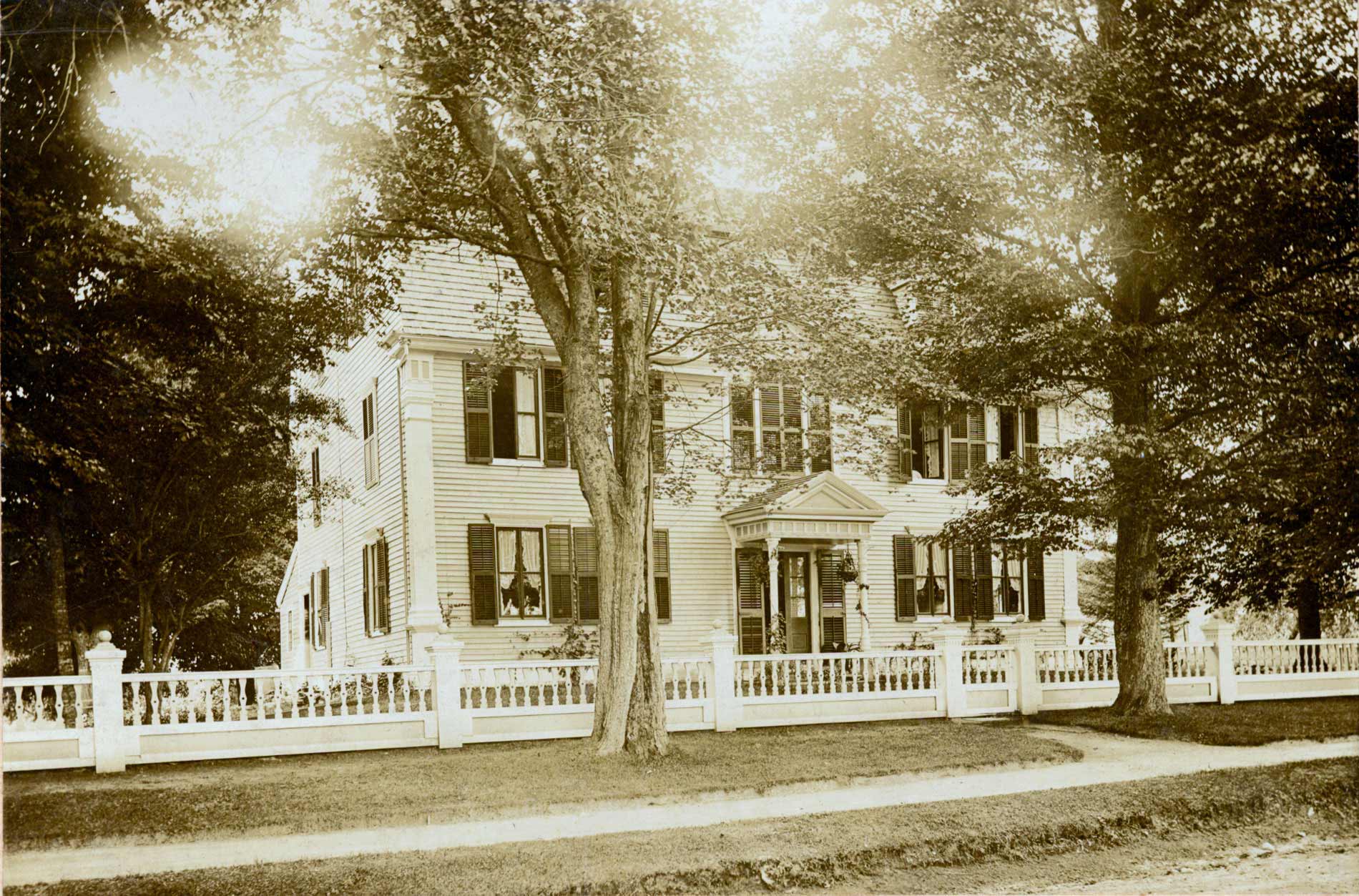 Bishop William T. Sabine house. LHSA
School Lane
After Victor Egan died in 1951, Miss Ferguson settled in an Old Lyme house with a rich history. The aging building had been moved in 1893 from its original site beside the Congregational Church to Evelyn McCurdy Salisbury's estate nearby. There it was expected to serve as the town's first high school, and the "avenue" called School Lane was laid out to provide access from McCurdy Road. But Mrs. Salisbury's vision was never realized, and the designated schoolhouse became a private home.[7]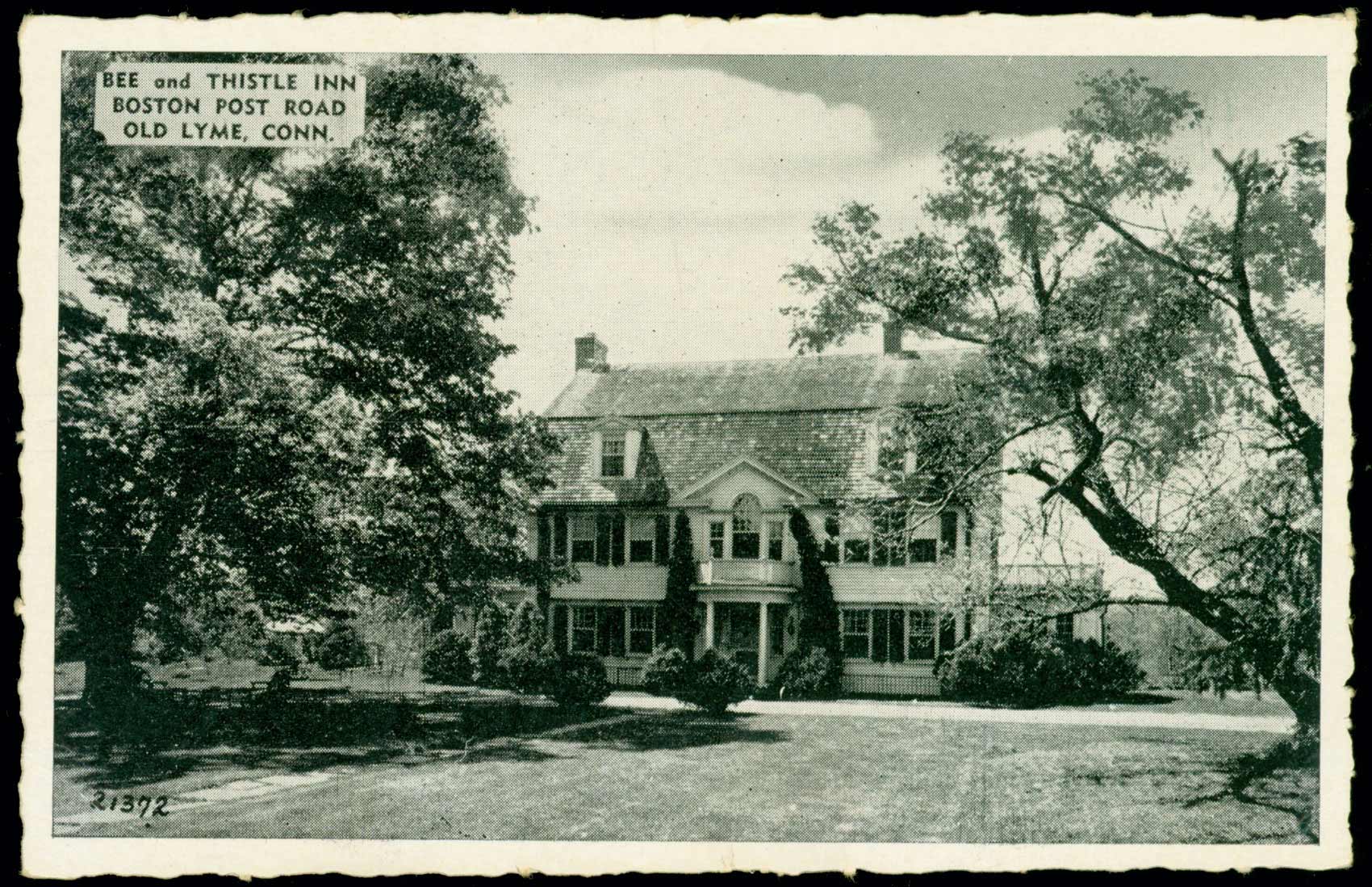 Bee & Thistle Inn. LHSA
The relocated structure had been built originally as the front addition to an historic tavern. Col. Marshfield Parsons (1733–1813) opened the tavern after 1745 in what had been his father's parsonage. Stagecoach passengers traveling from New York to Boston paused regularly for rest and refreshment at Parsons Tavern, which served as Lyme's first post office.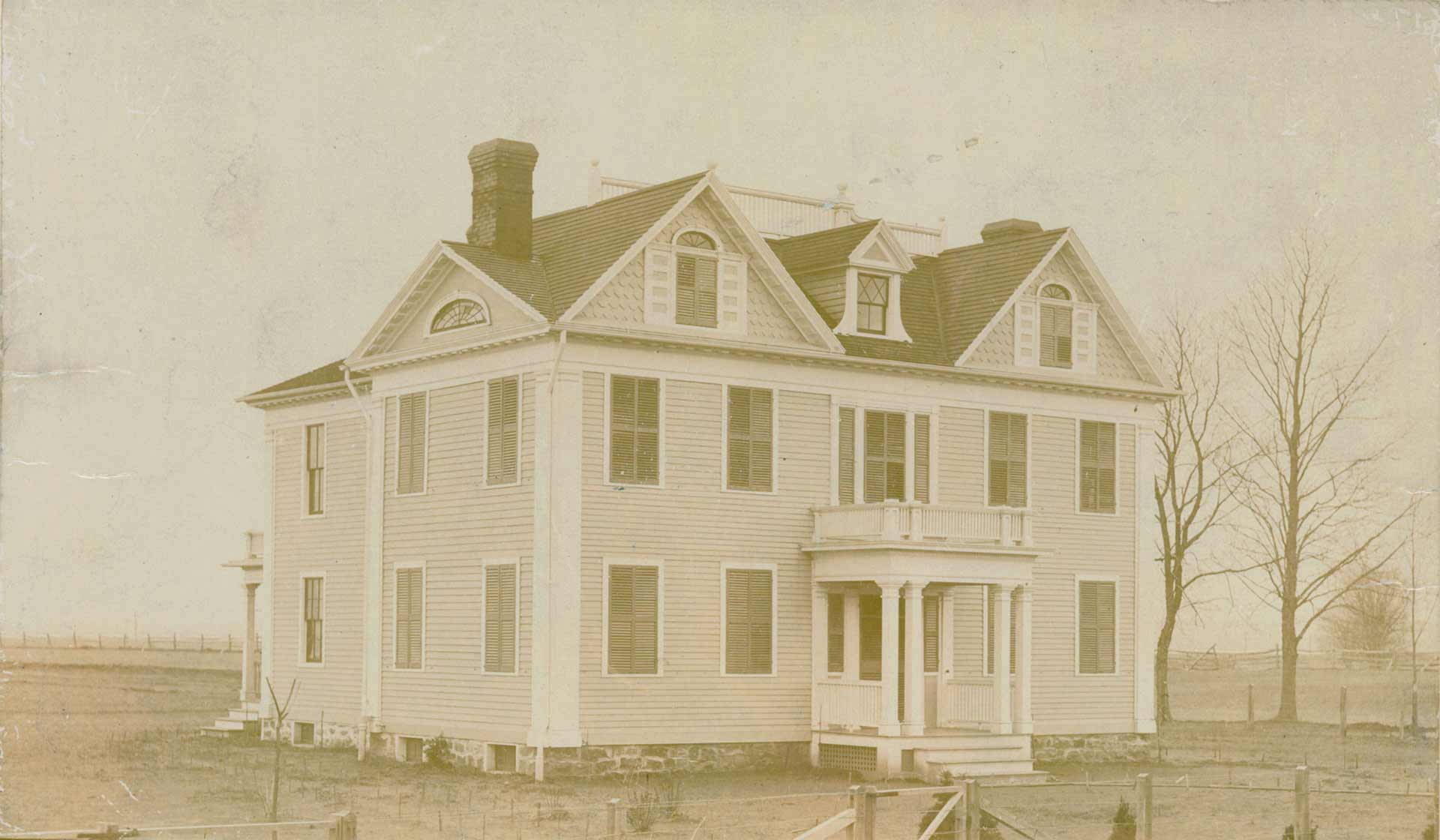 Elsie Ferguson home, School Lane. LHSA
When Daniel R. Noyes (1793–1877) turned the former tavern into a home for his growing family, he added the two-story front section in about 1840. His wife Phoebe Griffin Noyes (1797–1875), a talented water colorist and portrait painter trained in New York, could then open a school for private tuition students in what had once been the tavern's second floor ballroom.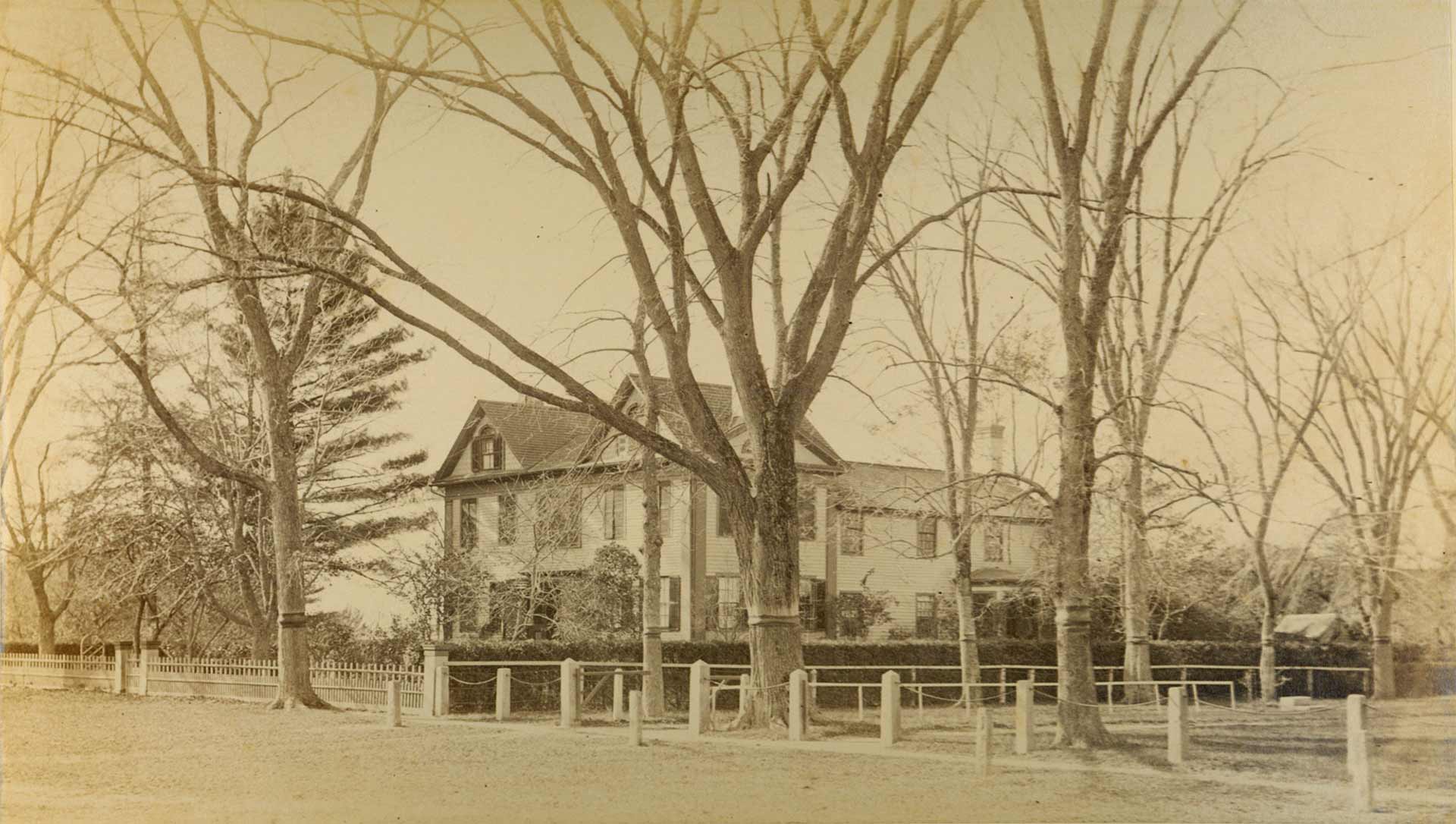 Charles H. Ludington home, ca. 1890, formerly Parsons Tavern. LHSA
The Noyes home passed to their daughter Josephine and her husband Charles H. Ludington (1825–1910), who added the front gables to accommodate servants. Two decades later when Mr. Ludington hired New York architect Henry Rutgers Marshall to design a stately Colonial Revival home on the site, he donated the gabled front section for a school. An ox team hauled it to Mrs. Salisbury's property where half a century later it became Elsie Ferguson's home.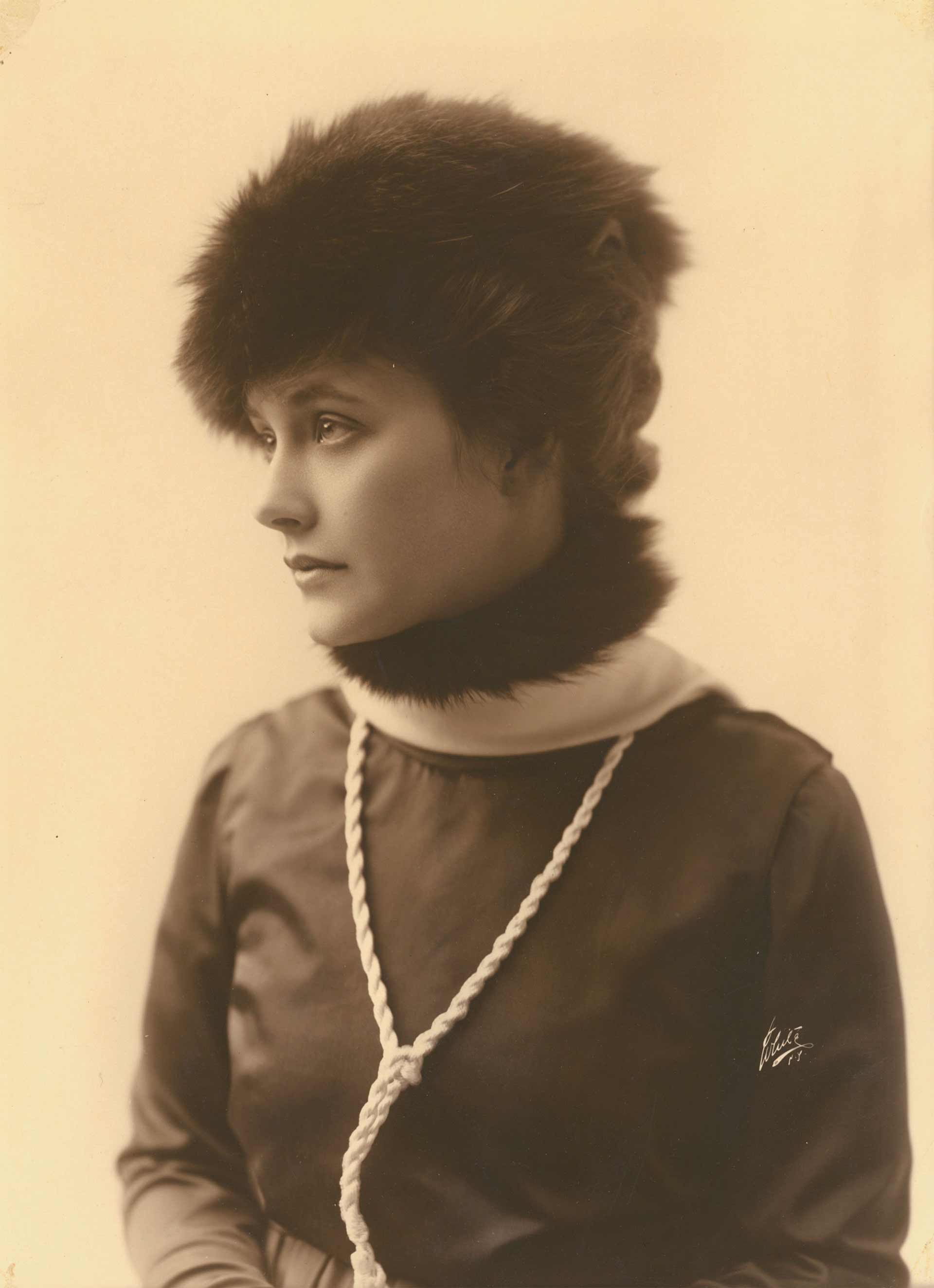 When Miss Ferguson died in the Lawrence & Memorial Hospital in New London in 1961,[8] she had become entwined, however briefly, with Old Lyme's past. In the Duck River Cemetery an imposing tombstone sheltered by overhanging cedars honors one of the most glamorous actresses to perform on the American stage. The opening lines from Scottish poet George Gordon, Lord Byron's beloved lyric "She Walks in Beauty" provide a fitting inscription.
---
[1] Two online biographies chronicle Elsie Ferguson's stage and screen career. See Internet Movie Database (IMDb) and Broadway Photographs: Performers.
---
[2] http://ibdb.com/person.php?id=40355
http://www.silentera.com/PSFL/data/W/WitnessForTheDefense1919.html
http://www.und.edu/instruct/cjacobs/WitnessfortheDefense.htm
---
[3] http://www.allmovie.com/movie/v109039
---
[4] Herald-Journal, April 21, 1934
---
[5] The Milwaukee Journal, November 22, 1943
---
[6] The New London Day, May 11, 1938; Ferguson Clan, Scots Connection
---
[7] Alma Merry Tatum, For the Love of Books: The Story of the Public Libraries of Old Lyme (Old Lyme, 1997), pp. 18, 34.
---