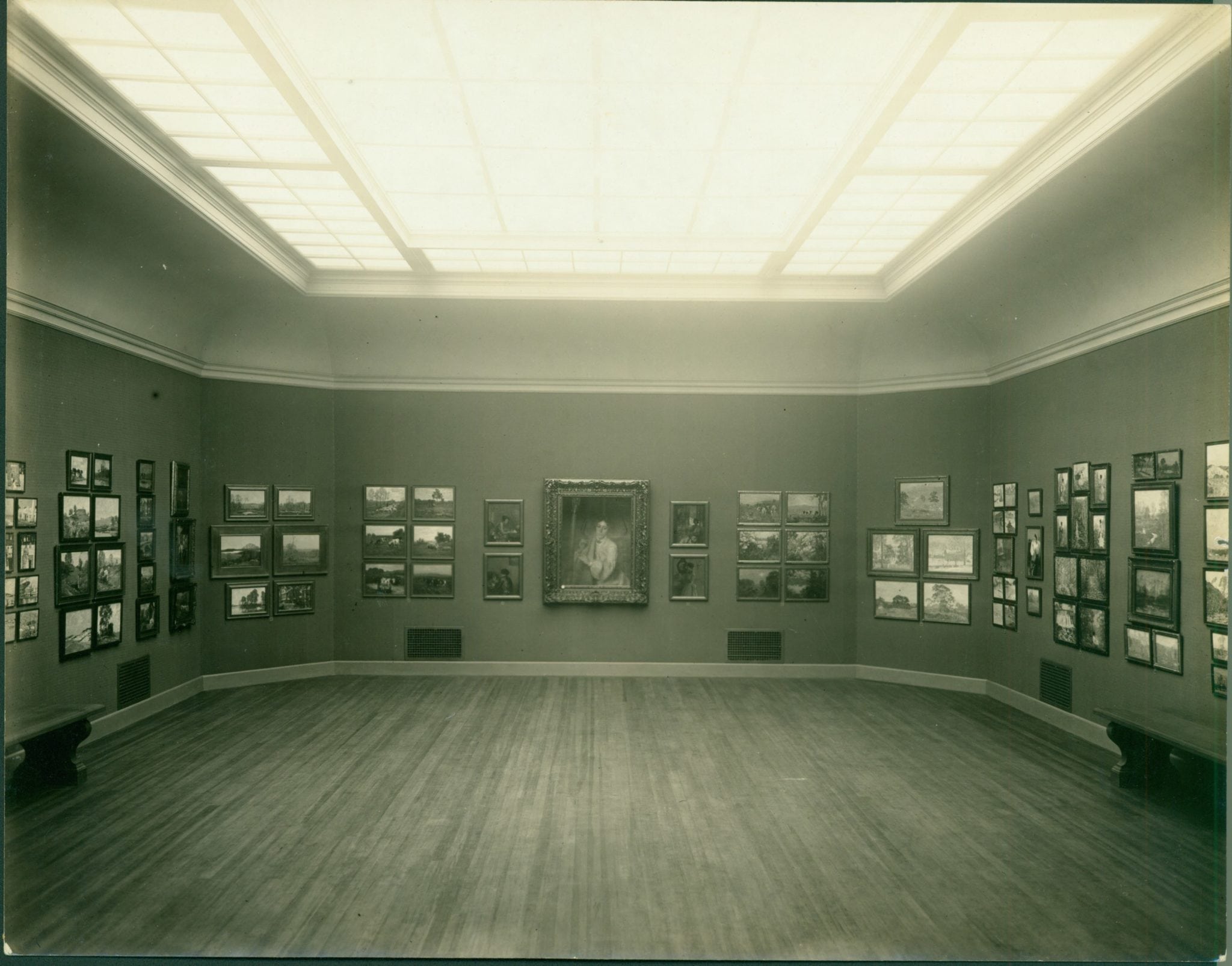 by Patty Devoe
Featured image: Interior of the Lyme Art Association Gallery, 1921. Harry Hoffman Papers, Lyme Historical Society Archives/Florence Griswold Museum
By now, everyone has noticed the remarkable restoration of the Lyme Art Association building on Lyme Street. Designed by painter-architect Charles A. Platt, this venerable, nearly 100 year-old building was the heartbeat of the Old Lyme artist's colony.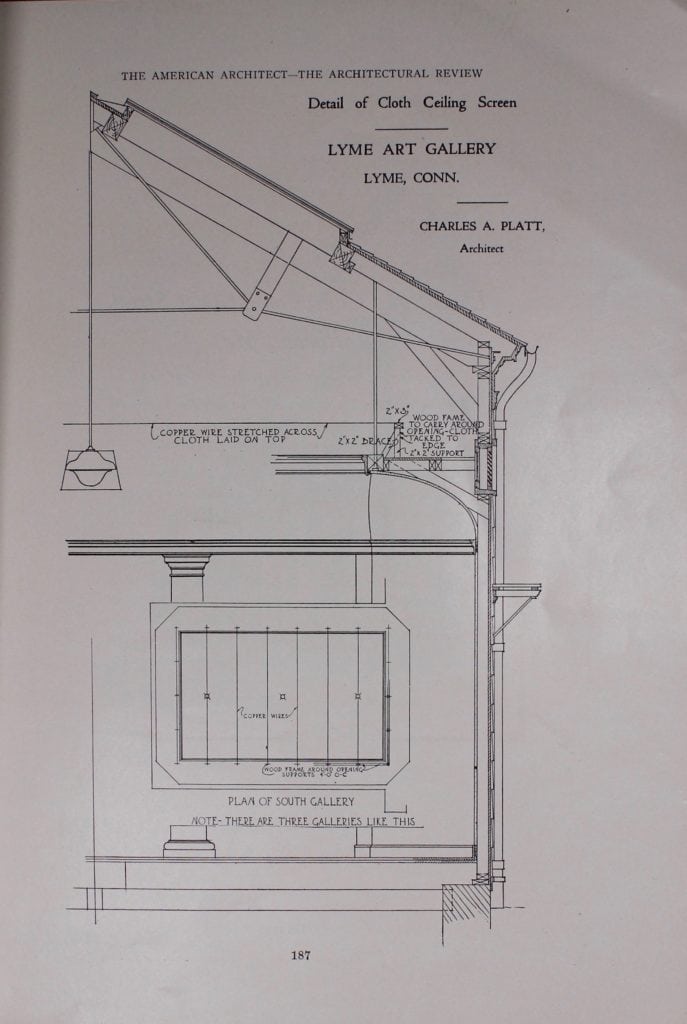 Section of the Lyme Art Association Gallery, from The American Architect and the Architectural Review, September 14, 1921 (LHSA/FGM)
Miss Florence Griswold carved a piece out of the southeast corner of her farmstead and sold the land to the Lyme Art Association for one dollar. The artists, some of whom still called her place home and some who by now had settled in the Old Lyme and Lyme area, had previously used the Phoebe Griffin Noyes Library as their exhibition space. Proceeds from the summer art exhibitions shown at the library were used to pay for the construction of their gallery, a permanent place to respectfully show their work, which was of national and international fame. What did Miss Florence say about the new gallery building? One answer comes from a letter in the Florence Griswold Museum's archives.
In a letter penned by Walter Magee of Lyme to artist friend William Platt Hubbard (painter and etcher, member of the Lyme Art Association and one in Miss Florence's circle), dated March 24th, 1921, is the following glimpse into what was being said:
"Miss Florence looks very well and is much pleased over the Art Gallery which by the way is not so bad, a bit barn like, but not too bad, a long building with one wing out the back, shingles, a bit 'tea roomy'." (Platt Hubbard Collection, File Number 150-63, FGM)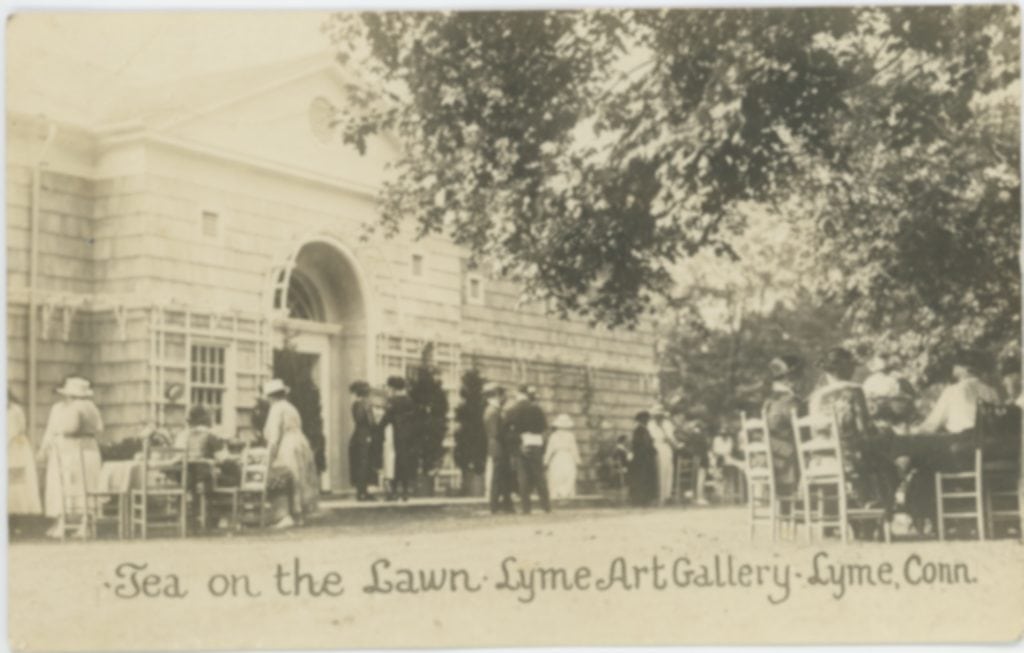 Tea at the Lyme Art Association, Lyme Historical Society Archives at the Florence Griswold Museum (LHSA/FGM)
The "tea roomy" reference might have been a jab at the afternoon teas held at the gallery on Wednesdays and Saturdays. Old Lyme was rapidly changing in the 1920's, becoming more in line with modern times, which meant more tourists, and less of the bucolic serenity which drew the artists to Miss Florence's home and Old Lyme in the first place. For more on what was happening in Old Lyme in the early 20th century and the Lyme Art Association, see The Charm of the Place by Carolyn Wakeman, Old Lyme Historical Society, 2011.