June 1–September 8, 2019
Fragile Earth: The Naturalist Impulse in Contemporary Art
The Museum will be closed Sunday, April 9 in observance of Easter.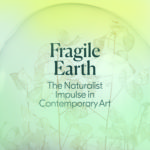 Purchase the catalogue for the exhibition, Fragile Earth: The Naturalist Impulse in Contemporary Art.
The fully-illustrated, 120-page catalogue features an introductory essay by exhibition Curator Jennifer Stettler Parsons, Ph.D., a dialogue between artists Mark Dion and James Prosek, a dialogue between artist Courtney Mattison and marine ecologist Jane Lubchenco, Ph.D., and a fantastical narrative by artist Jennifer Angus. Beautiful illustrations of the sitespecific installations accompany these texts, as well as biographies of the artists, object entries, a bibliography, and an exhibition checklist.
Fragile Earth: The Naturalist Impulse in Contemporary Art has been made possible with generous support from the National Endowment for the Arts, Department of Economic and Community Development, Connecticut Office of the Arts, Bank of America, the Nika P. Thayer Exhibition and Publication Fund, Mr. & Mrs. Maxwell M. Belding, Mr. Charles T. Clark, The Howard Gilman Foundation, The Vincent Dowling Family, Mr. & Mrs. J. Geddes Parsons, Mr. William Blunt White, as well as donors to the Museum's Annual Fund.
 Media Sponsors: WSHU Public Radio, Connecticut Cottages & Gardens
Fragile Earth showcases the diverse approaches taken by ecologically concerned artists today, illustrating the powerful role they play in advocating for environmental causes. The Florence Griswold Museum commissioned four leading contemporary artists to create new work that incorporates and responds to the natural world. The exhibition builds on the success of the Museum's 2017 exhibition, Flora/Fauna: The Naturalist Impulse in American Art, which surveyed the history of American artist-naturalists from the 19th to mid-20th centuries.
Artists Jennifer Angus, Mark Dion, Courtney Mattison, and James Prosek have created striking installations that reflect the vulnerability of the environment. "These artists were selected for the profound message their works convey about environmental conservation," says exhibition curator, Jennifer Stettler Parsons, Ph.D.  "They transform natural and non-traditional materials, like insects and found debris, into art in order to make visible the human role in global climate change, and to reveal how our daily choices may endanger our planet's future." Parsons curated both Flora/Fauna and Fragile Earth.
Mark Dion, Courtney Mattison, and James Prosek present commissioned work and select loans in the Museum's Krieble Gallery, putting their art in conversation with the Museum's landscape and historic structures. Conceptual artist Mark Dion is well-known for assemblages that critique humans' treatment of the environment and the way we explore, classify, and preserve natural specimens for our own ends. He will create a new "cabinet of curiosity" with debris collected along the Connecticut shoreline. Sculptor and ocean advocate Courtney Mattison displays her monumental, intricately detailed ceramic wall reliefs that replicate the beauty of coral reefs and inform viewers of their threatened state. Often described as a contemporary Audubon, artist-naturalist James Prosek considers in his work how we engage with, identify, and categorize nature. Playing off the aesthetic of the field guide, he exhibits one of his signature hand-painted, silhouette-style murals of Connecticut flora and fauna, as well as a large-scale print made with the bodies of inked eels—travelers who make an awe-inspiring journey between local waters and faraway oceans. Artist and professor Jennifer Angus has staged an artistic intervention in Florence Griswold's historic boardinghouse, activating the first floor with a theatrical display created with stunning preserved insects. Pinning insects to the walls in ornamental patterns, Angus creates surprising beauty, while also informing visitors of their importance to the ecosystem. In the months leading up to the exhibition, Angus was the Museum's first Artist-in-Residence, installing her work on campus and interacting with the public. Read more about Angus's work in the Florence Griswold House…   And take a 3D Tour of Angus's installation…
Fragile Earth coincides with early stages of a $1 million Landscape Master Plan, generously funded by the Robert F. Shumann Foundation, which will restore the historic site's original meadows, hedgerows, and thickets, and create a half-mile interpretive The Artists' Trail through the grounds. In an effort to interweave art, history, and nature, interpretative wall texts in Fragile Earth will connect the gallery installations with the outdoors, and encourage audiences to participate in conservation efforts. In addition to traditional scholarly talks on nature-based topics, the 12-acre campus will become its own laboratory for learning with "Learning En Plein Air," a series of educational events outdoors.
About the Artists
Canadian-born artist Jennifer Angus travels the world mentoring students and gathering inspiration for her ecologically safe installations of preserved insects, which bring attention to the creatures' role in the environment, their habitats, and the human role in deforestation, agriculture, and urbanization. As professor of Design Studies at the University of Wisconsin–Madison, Angus has received annual grants from the Graduate School, as well as a Vilas Associate Award, the Emily Mead Baldwin-Bascom Professorship in the Creative Arts, and a Romnes Fellowship.  She has exhibited at such venues as the Smithsonian's Renwick Gallery, MadArt, Seattle, the Museum of Art and Design, NY, the Villa Terrace Decorative Arts Museum, and the John Michael Kohler Arts Center. Internationally her work has been seen in Australia, Canada, France, Germany, Japan, Mexico, and Spain. Her exhibition, A Terrible Beauty, at the Textile Museum of Canada was selected as "Exhibition of the Year" by the Ontario Association of Art Galleries in 2006. She received her education at the Nova Scotia College of Art and Design (BFA) and at the School of the Art Institute of Chicago (MFA). More information on Jennifer Angus…
Internationally recognized artist Mark Dion examines the ways in which public institutions construct our understanding of history, knowledge, and the natural world. His assemblages use scientific methods of collecting, ordering, and exhibiting objects to offer commentary and critique on the human treatment of the environment. Dion has had major exhibitions at the ICA, Boston, the Miami Art Museum, the Museum of Modern Art, NY, the Aldrich Museum of Contemporary Art, CT, and at the Tate Gallery, and the British Museum of Natural History, London. His numerous awards include the Larry Aldrich Foundation Award, The Joan Mitchell Foundation Award, and the Smithsonian American Art Museum's Lucida Art Award. He has produced numerous public projects and large-scale commissions, including for Documenta 13 in Kassel, Germany, the Montevideo Biennial in Uruguay, The Rose Art Museum, Johns Hopkins University, the Port of Los Angeles, and most recently for Tulsa's Riverfront Park, "Gathering Place." Born in New Bedford, MA, Dion holds a BFA and honorary doctorate from Hartford Art School, CT; he attended the School of Visual Arts, NY, and the Whitney Museum of American Art's Independent Study Program. He is an Honorary Fellow of Falmouth University in the UK, and has an Honorary Doctor of Humane Letters (Ph.D.) from The Wagner Free Institute of Science in Philadelphia. Based in New York, Dion is also a prolific author. More information on Mark Dion…
 Artist and ocean advocate Courtney Mattison handcrafts intricate and large-scale ceramic sculptural works inspired by the beauty of marine ecosystems—particularly coral reefs—and the human-caused threats they face. Her installations have been commissioned for the U.S. Department of State's Office of Art in Embassies, the Nova Southeastern University Oceanographic Center, the Coral Triangle Center, Bali, Indonesia, and private patrons. Mattison's work has been exhibited at prominent venues including the U.S. Department of Commerce & NOAA headquarters, the Whatcom Museum, the American Museum of Ceramic Art, the American Association for the Advancement of Science (AAAS), and the Virginia Museum of Contemporary Art. Based in Los Angeles, Mattison was born in San Francisco. She received an interdisciplinary Bachelor of Arts degree in marine ecology and ceramic sculpture from Skidmore College, and a Master of Arts degree in environmental studies from Brown University, with coursework at the Rhode Island School of Design. More information on Courtney Mattison…
Connecticut-based artist, writer, naturalist, and Yale graduate James Prosek is the author of more than thirteen books on art and nature, including Eels (Harper Perennial). Drawing inspiration from artist-naturalists of the 19th century, his paintings creatively reimagine documentary imagery of American flora and fauna, commenting on the interconnectedness of our ecosystem. Prosek's work has been shown at such venues as the Virginia Museum of Fine Arts, the Yale Center for British Art, and the Smithsonian American Art Museum, with solo exhibitions at the Aldrich Contemporary Art Museum, Ridgefield, CT, the Philadelphia Museum of Art, the New Britain Museum of American Art, the Buffalo Bill Center of the West, the North Carolina Museum of Art and the National Academy of Sciences in Washington, D.C., among others. He has held numerous artist residencies, including at the Yale University Art Gallery, the Isabella Stewart Gardner Museum, and the Addison Gallery of American Art. Prosek has written for The New York Times and National Geographic Magazine and won a Peabody Award in 2003 for his documentary about traveling through England in the footsteps of Izaak Walton, the 17th-century author of The Compleat Angler. More information on James Prosek…