Exhibition Notes: Albany and Lyme
ON April 18, 2012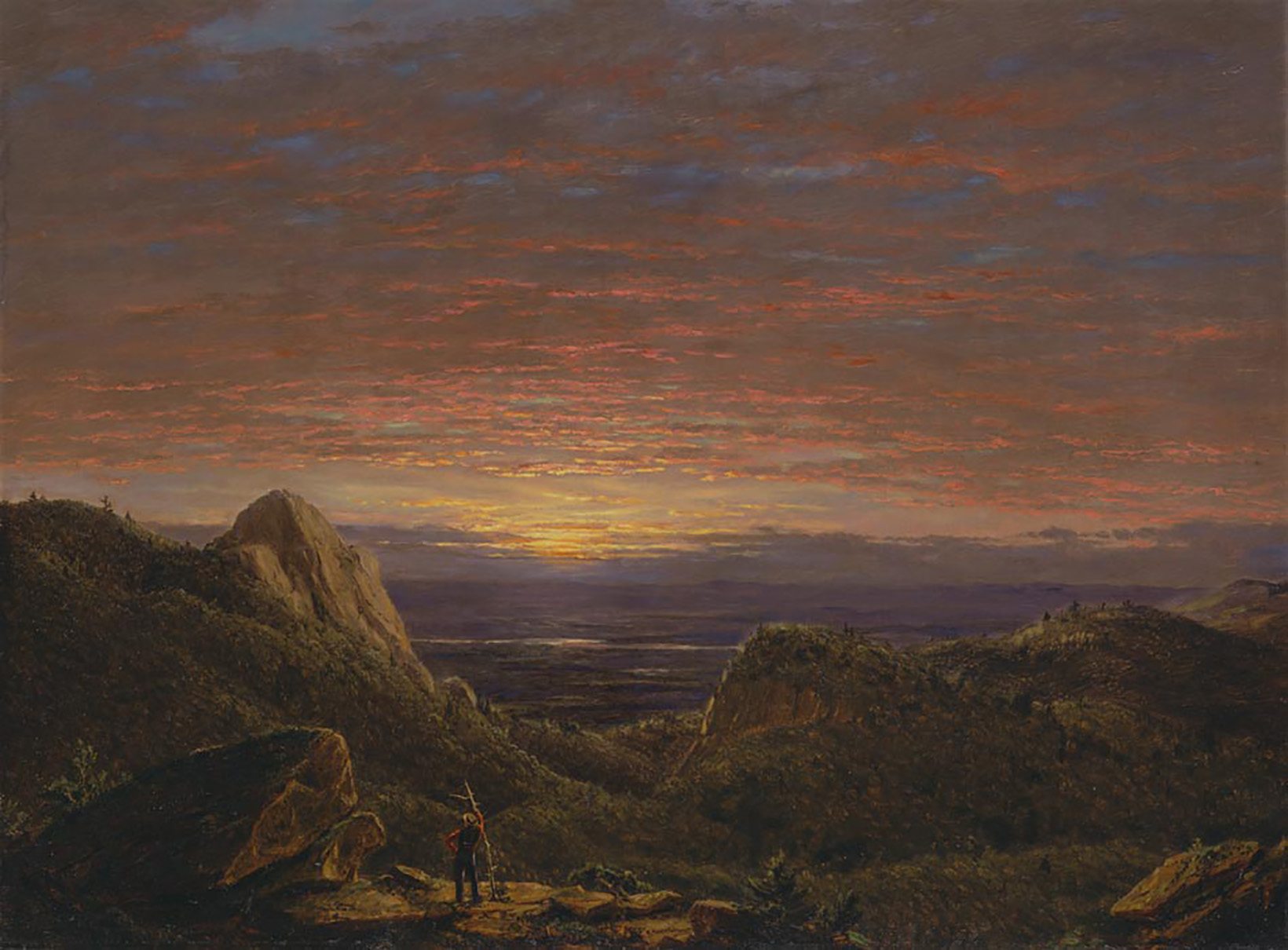 by Carolyn Wakeman
 Feature Photo (above): Frederic Edwin Church,Morning, Looking East over the Hudson River, 1848. Oil on canvas. Albany Institute of History & Art
From the Archives offers a local history perspective on Lyme's Albany connections to accompany the Florence Griswold Museum's summer 2012 exhibition On Hudson: Highlights from the Albany Institute of History & Art.
Little do we imagine that when Frederic Edwin Church (1826-1900) captured the majestic scenery of the Hudson Valley in Morning, Looking East over the Hudson River in 1848, Albany's landscape had already become home to growing numbers of Lyme families.
Paintings of the Hudson River School call to mind images of craggy outcroppings, shadowy ravines, and dramatic vistas. Yet early descriptions of the rugged terrain near Rogers Lake suggest that Lyme's scenery had similar features.  "The road to North Lyme," wrote one observer in 1876, "winds among sharp steeps, wild crags, around glimmering lakes, through weird ravines and darksome gorges, every now and then emerging into the broad sunlight upon the top of some remarkable elevation, where magnificent views may be obtained."[1]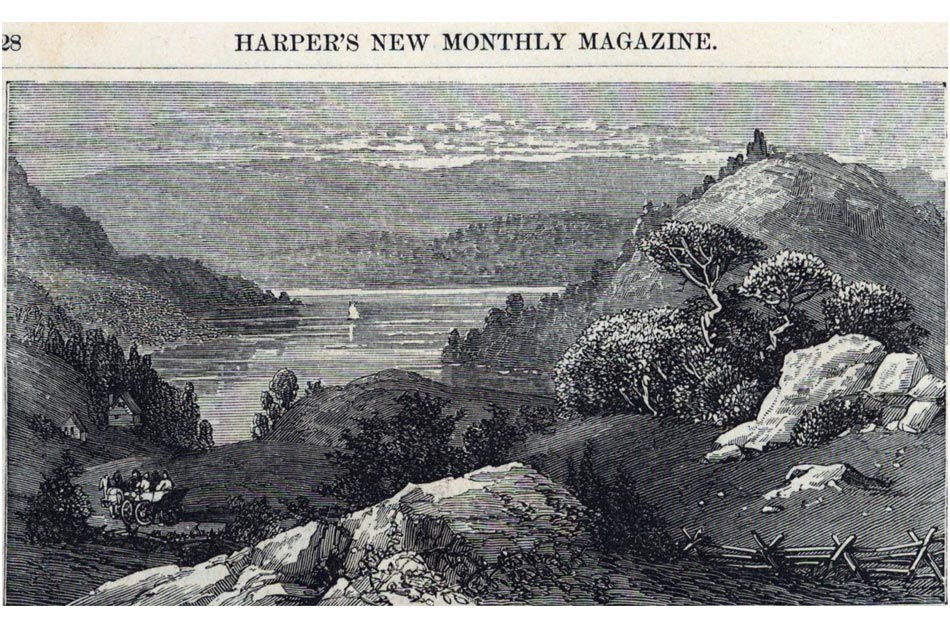 Attributed to Charles Parsons,Roger's Lake, 1876. Harper's New Monthly Magazine. LHSA
It was not the Hudson River Valley's landscape but its culture that Lyme's early migrants found unfamiliar. Albany was still a small Dutch city when Richard Sill from Lyme married Elizabeth Nicoll from Bethlehem, New York, in 1785. Dutch was the customary language, and the twin-towered Dutch Reformed Church was the primary place of worship. There were no public schools.
According to a contemporary chronicler, only five New England families lived in Albany then, but already "the Yankees were creeping in."[2] Adventurous Dutch fur traders had been the first to settle on former Iroquois land along the Hudson River, but resourceful New Englanders followed behind them. By the time Albany became New York's state capitol in 1797, the area's "second colonization" was underway.
Westward migration from the New England states had accelerated after the Revolutionary War, and venturesome Lyme natives sought new opportunities. Lured by the prospect of cheap land, untapped resources, and opening markets, they moved not only to New York State but onward to Pennsylvania, Ohio, Missouri, Minnesota, wherever prosperity beckoned. After half a century of out-migration, the town's population shrank from 4,380 in 1800 to 2,668 in 1850.[3]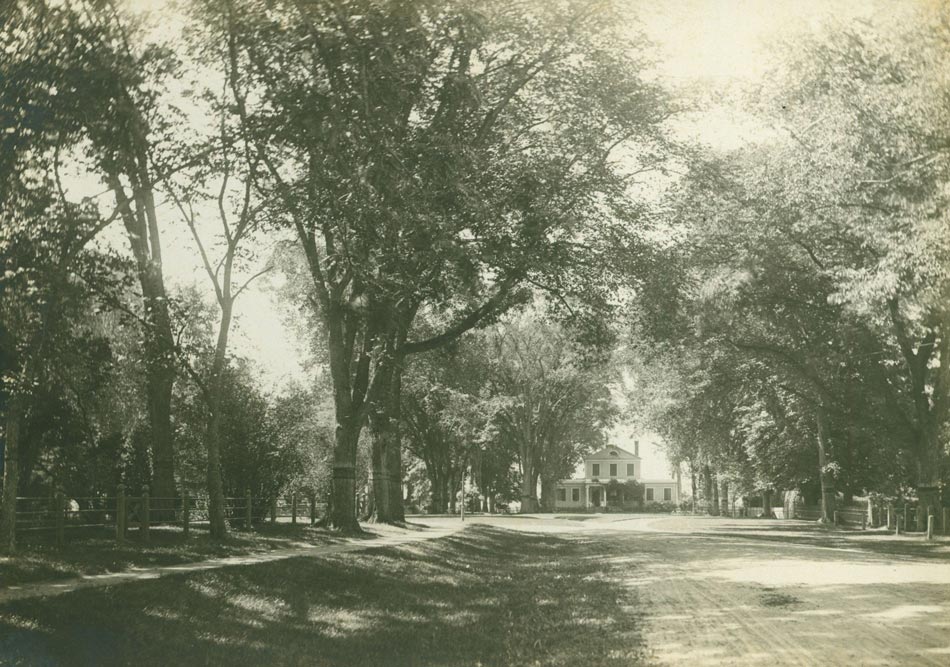 Benjamin Marvin house, ca. 1900. Courtesy Ludington Family Collection
Among the first Yankees to recognize Albany's potential as a commercial center were five of Benjamin Marvin's sons who had grown up in Lyme. Uriah and Richard Marvin prospered in the dry goods trade in Albany and became directors of local banks, while their brothers William, Alexander, and John Marvin "carried on in partnership, with some changes, the grocery business for more than 40 years, with great success."[4] Even before 1825 when the Erie Canal expanded prospects for trade and manufacturing, the Hudson Valley's appeal to enterprising Lyme residents was firmly established.
But if the hope of economic benefit pulled Lyme folk far from home, the decision to relocate brought risk, uncertainty, and sometimes distress. Local merchant Daniel Rogers Noyes (1793-1877) sold his Lyme home and property during the economic crisis in 1837, intending to move his family to the Albany area, but an exploratory trip changed his mind.
William Noyes' (1792-1873) decision to relocate six miles from Albany in Troy, his wife's birthplace, because of "pecuniary circumstances with other reasons," was final. After purchasing a mill in Troy in 1838, he sold his elegant home (now the Florence Griswold Museum), then wrote to his uncle: "I have disposed of my house [and] land adjoining," but "I quit the place with anguish."[5]
Note: So entwined were families in Albany and Lyme that even the museums curating "On Hudson" have an early biographical connection through two brothers from New London. The Albany Institute of History and Art's first president was a distinguished judge named William L. Learned (1821-1904)[6] who in 1855 married, in Albany, Phoebe Rowland Marvin, daughter of Alexander Marvin, the prospering merchant from Lyme. Judge Learned's older brother Billings P. Learned (1813-1884), a prominent Albany citizen and president of its Union Bank, had some years earlier married, in Lyme, a young woman named Mary Anne Noyes (1818-1875) whose family home is now the Florence Griswold Museum.
Florence Griswold house. LHSA
---
[1] Martha J. Lamb, "Lyme: A Chapter of American Genealogy," in Harper's New Monthly Magazine, Vol. LII (February 1876), p. 327, Monographs G-Lu, Lyme Historical Society Archives (LHSA).
---
[2] Jonathan Tenney, New England in Albany (Boston, 1883), pp. 16-30; Gorham A. Worth, Random Recollections of Albany, from 1800 to 1808 (Albany, 1850), pp. 9-10.
---
[3] The Connecticut State Register and Manual (Hartford, 1930).
---
[4] Tenney, pp. 16, 58.
---
[5] Lyme Land Records 34:669. William Noyes to Rev. Matthew Noyes, April 24, 1839, Rev. Matthew Noyes Papers, LHSA.
---
[6] Cuyler Reynolds, ed., Albany Chronicles: A History of the City Arranged Chronologically (Albany, 1906), p. 751.