Exhibition Note: Online Exhibition Offers an Unprecedented Look at Artist Edward C. Volkert
ON March 17, 2021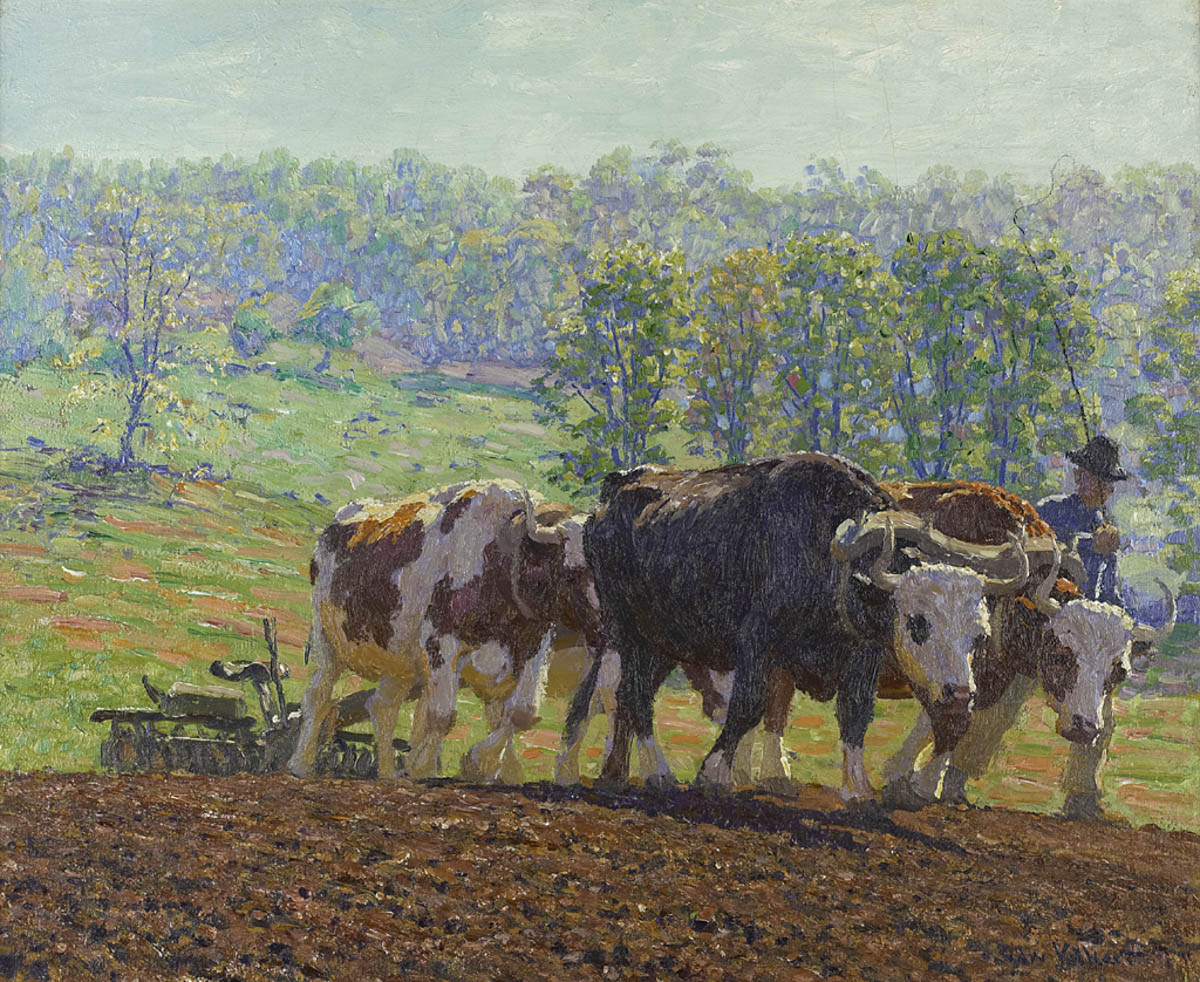 Featured image: Edward C. Volkert, Harrowing. Oil on canvas, 24 x 30 in. Florence Griswold Museum, Gift of George C. Lay
by Amy Kurtz Lansing
Circulating between his native Ohio and the Northeast, Edward C. Volkert (1871–1935) built a reputation as a painter of cattle, first becoming captivated by the subject after observing cows grazing at a dairy near his home in Bronx, New York. By 1922, he had obtained a summer place in Lyme, Connecticut, on Sterling City Road. Next door lived another Midwestern transplant, artist Wilson Henry Irvine, who along with George M. Bruestle and Guy C.  Wiggins of Lyme were members with Volkert in an exhibition collaborative called The Painter Friends. The artist began to contribute pictures to the annual exhibitions of the Lyme Art Association, becoming particularly devoted to the institution's growth in the 1920s as a venue for work by Impressionist painters that could then be marketed around the country.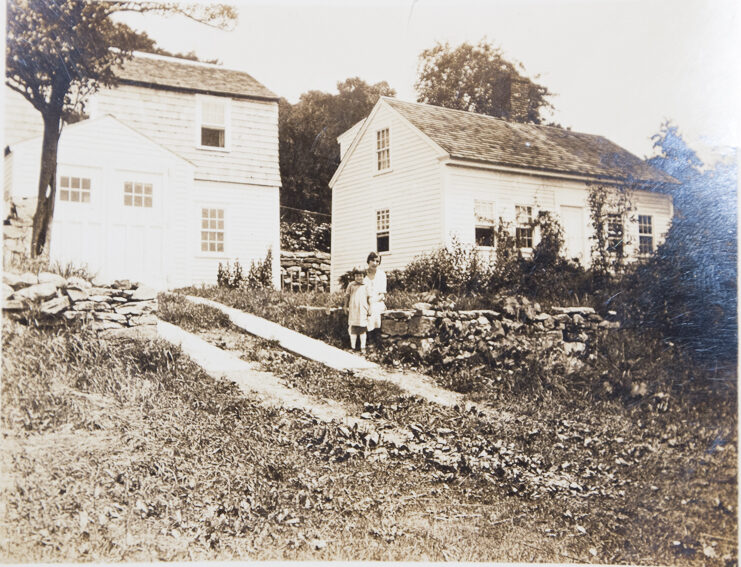 Edward Volkert's home on Sterling City Road in Lyme, ca. 1923. Photograph from Volkert Scrapbook. Private Collection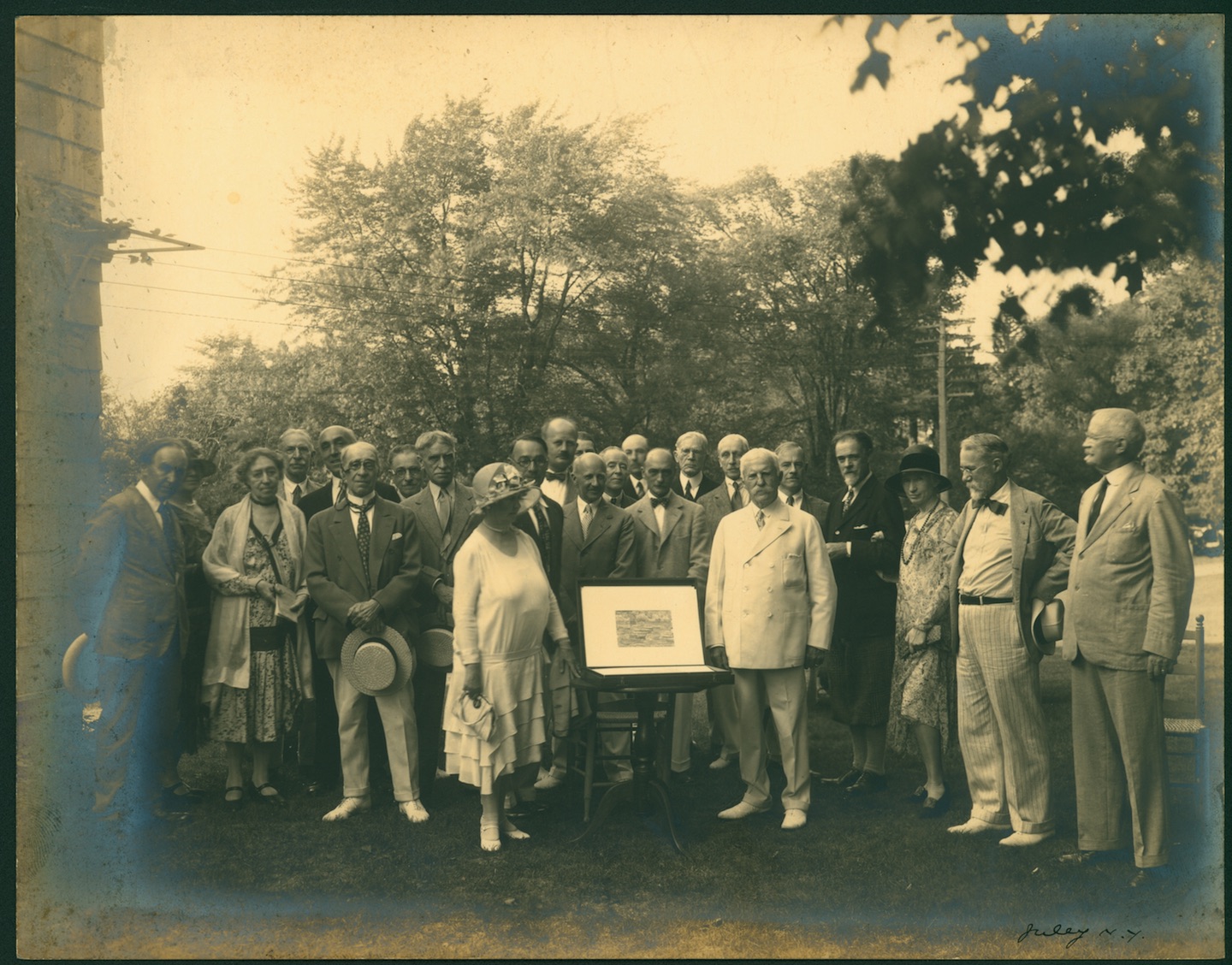 Edward C. Volkert, fifth from left in dark jacket, at the presentation of a gift to Lyme Art Association patron William O. Goodman. Lyme Historical Society Archives (LHSA), Florence Griswold Museum
Positioned overlooking a hilly vista, Volkert's Lyme property gave him the opportunity to paint the area's bovine herds just steps away from the door. His years in Lyme were productive, allowing him to practice his workman-like ethic of rising before dawn to capture the atmosphere and early light over the pastures. When not dedicated entirely to cattle, his canvases often focus on a single farmer, at times with a younger assistant, rather than on a group of laborers working as a team to bring in a harvest—the trend as New England agriculture gradually moved toward cooperative organization and mechanized production. Volkert's paintings record an agricultural economy and rural way of life in transition.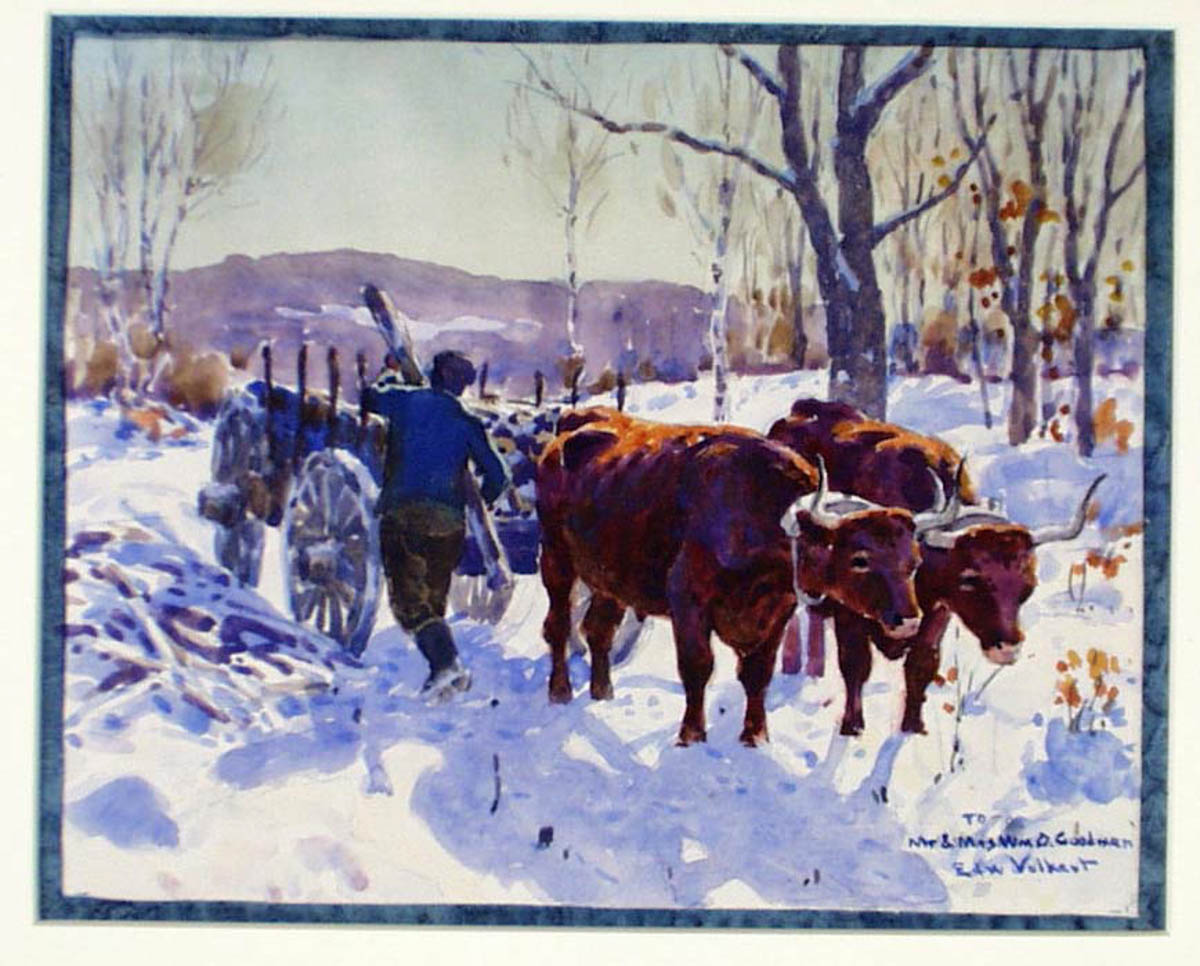 Edward C. Volkert, Untitled [work made for Goodman Presentation Case]. Gouache on canvas, 6 3/4 x 8 3/8 in. Florence Griswold Museum, Gift of Mr. and Mrs. Robert D. Graff, 1975.6.22
Thanks to a grant from Connecticut Humanities, the online exhibition Hauling and Harrowing: Edward Volkert and the Connecticut Farm, offers the first sustained look at the artist. His depictions of agriculture from the 1910s-1930s document an era of technological transition from animal-powered to industrial farming. Drawing upon research for the 2018 exhibition Art and the New England Farm, this online exhibition considers how Volkert's idyllic depictions of farm work reckon with subjects such as technological change, the relationship between rural and urban areas, immigration and labor sources, and the representation of health and the food supply (topics that gained particular relevance during and after World War I). While Volkert's paintings of oxen teams harrowing fields may appear timeless, their emergence at a moment when these issues were intensively being discussed both in Connecticut and nationally allows us to consider how artists' works help viewers navigate fraught transitions.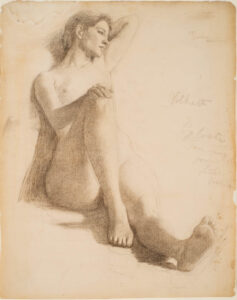 Edward C. Volkert, Seated Female Nude, ca. 1900. Chalk on paper, 23 ½ x 18 ½ in. Florence Griswold Museum, Gift of Mrs. Elizabeth Whitley
Visitors to the online exhibition can explore the biography of Volkert, who was born to German immigrants in Cincinnati. He studied under Frank Duveneck at the Cincinnati School of Art, building a foundation in academic drawing before moving by 1898 to New York. There, he spent time at both the Art Students League, where he held the Duveneck Scholarship, and the National Academy of Design under teachers William Merritt Chase, H. Siddons Mowbray, and George DeForest Brush. Examples of academic studies from Volkert's student years show his mastery of the human figure, which informed a small number of portraits that bookended his career, as well as demonstrating the commitment to anatomy and form evident in his many depictions of livestock. The online exhibition features a gallery of works by Volkert from all phases of his career, drawn from public and private collections. Viewers can also browse the artist's scrapbook and watch clips of silent film footage of him painting outdoors in Lyme from a bovine model. The digital resources and new research featured in Hauling and Harrowing will hopefully encourage further investigation of Volkert's timely art.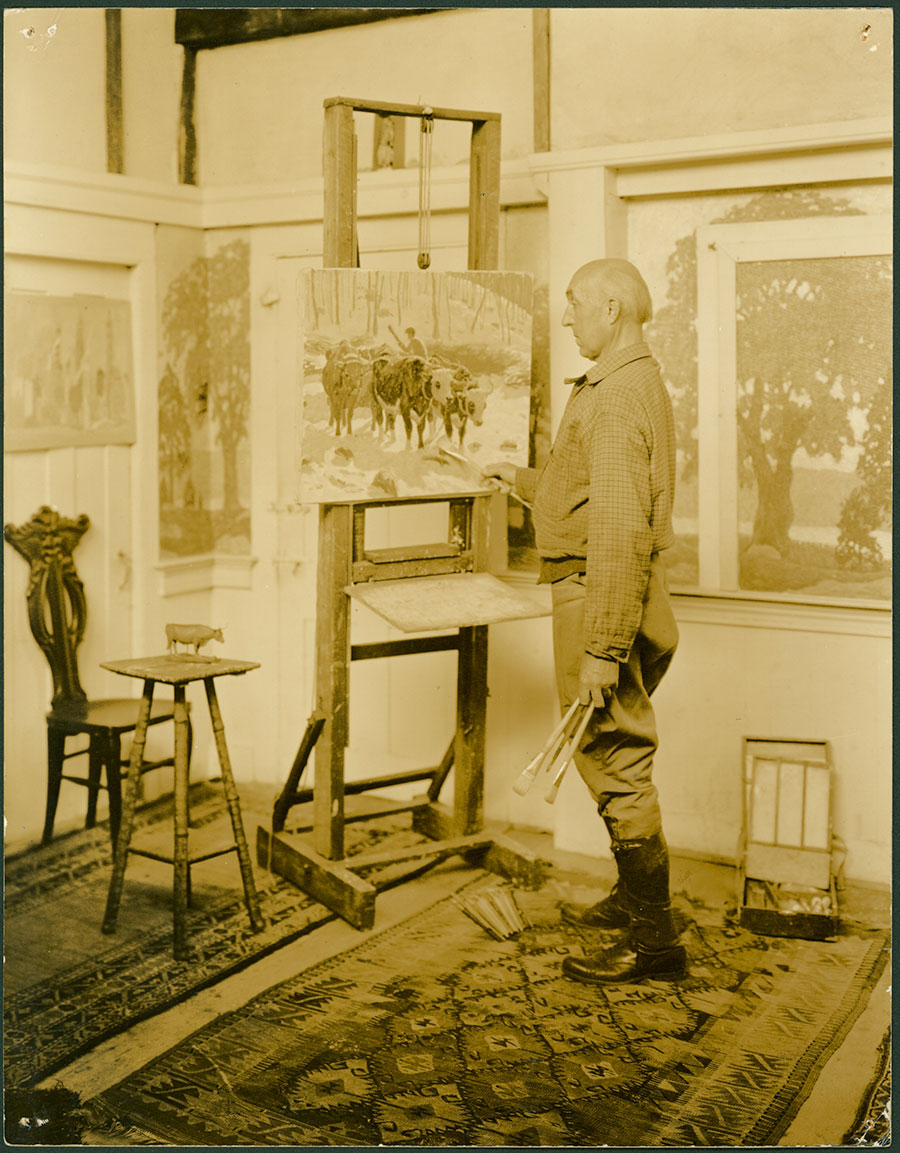 Edward C. Volkert painting in his Lyme studio, ca. 1930. Lyme Historical Society Archives, Florence Griswold Museum