Documents: Dairy Christmas and Happy Moo Year!
ON December 21, 2021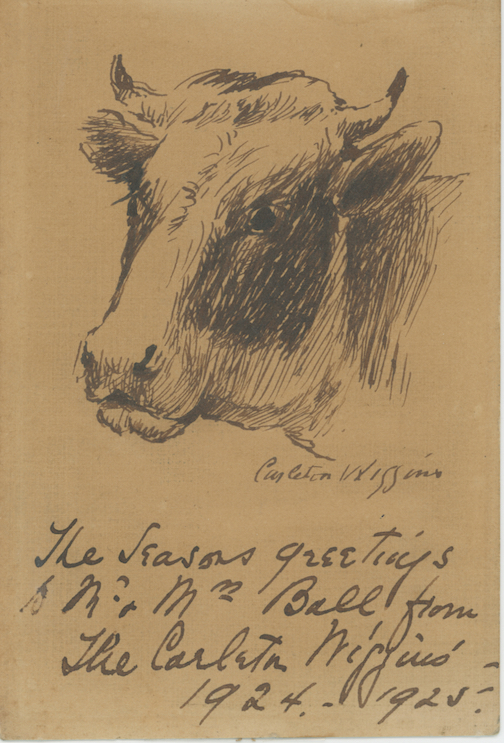 Featured Image: Carleton Wiggins, Christmas Card, 1924. Ink on paper. Florence Griswold Museum, Gift of Patricia Shippee, 2021.17.2
by Amy Kurtz Lansing
This hand-drawn sketch of a cow by Carleton Wiggins (1848–1932) adorns a holiday card addressed to Mr. and Mrs. Ball—likely fellow artist Thomas Watson Ball (1863–1934) and his wife, artist Alice Raymond Ball (1870–1942). Both couples lived full time in Old Lyme, where the Balls had moved in the early 1920s. Although not separated by many miles between their homes on the Neck Road (Wiggins) and Ferry Road (Ball), the card acknowledged a relationship strengthened by both men's involvement in the Lyme Art Association and friendship with Florence Griswold.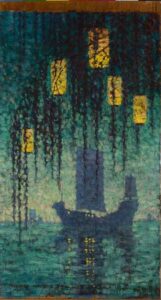 Thomas Watson Ball's painted panel for Florence Griswold's dining room. Ball, Chinese Twilight, n.d. Oil on wood. Florence Griswold Museum, Gift of the Artist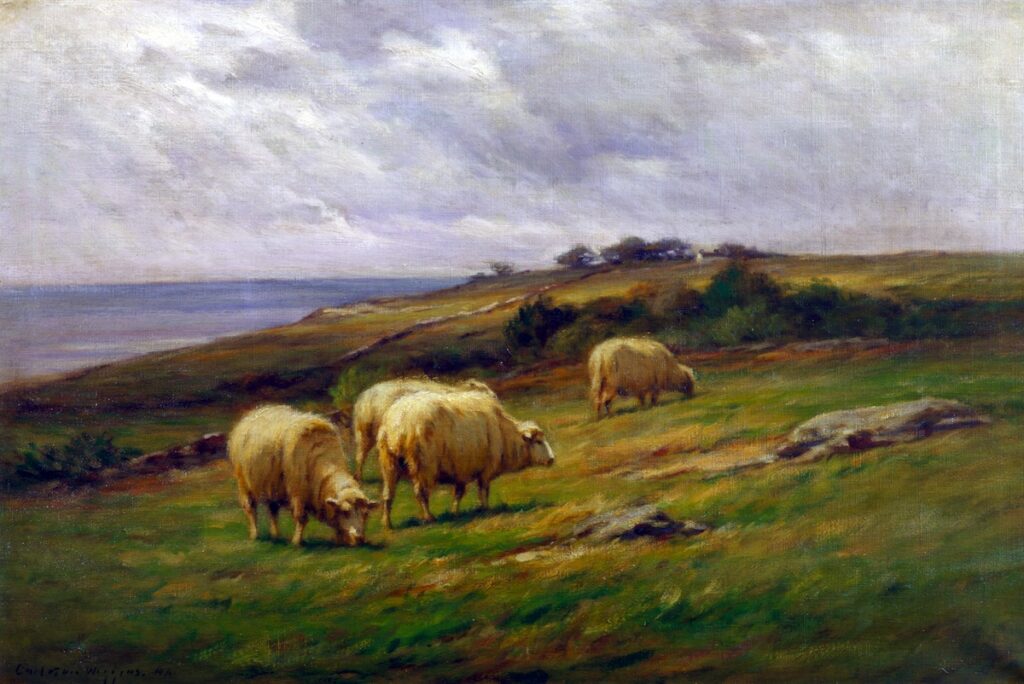 Carleton Wiggins, Seaside Sheep Pasture, after 1906. Oil on canvas. Florence Griswold Museum, Gift of The Hartford Steam Boiler Inspection and Insurance Company
Wiggins was best known for his depictions of grazing livestock, which he studied in sketches that record the forms and faces of his bovine subjects. It seems as though the artist converted one such sketch into this card, signing below the image and adding an inscription to his friends. By the 1920s, many of Old Lyme's artists exchanged Christmas cards each year, some drawing one-off compositions and others, such as Thomas Nason, engraving subjects they could print for all the recipients on their holiday lists (a selection of Nason's cards is on view in the Florence Griswold House during the 2021 holiday season). As the examples by Wiggins and Nason suggest, holiday cards often distill the essence of an artist's work, making them keepsakes that could even be slipped into a frame as this card was before its recent donation to the Florence Griswold Museum.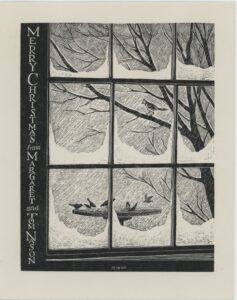 Thomas Nason, Merry Christmas from Tom and Margaret Nason, 1960. Wood engraving. Florence Griswold Museum