A "Little Scene" from Miss Florence
ON February 20, 2015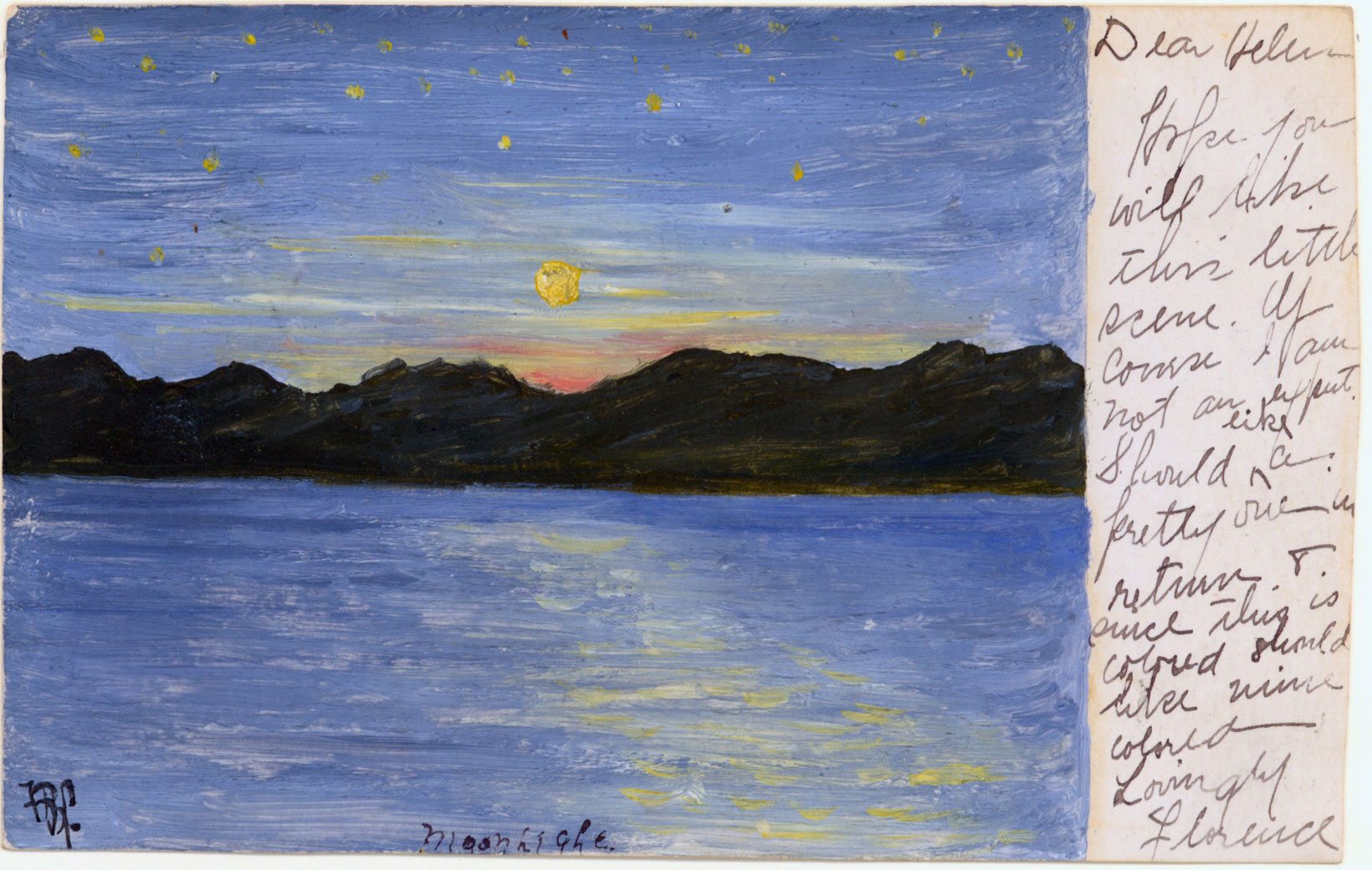 by Carolyn Wakeman 
Featured photo, above: Florence Griswold, "Moonlight." Postcard inscribed to Helen Clark, 1905. Lyme Historical Society Archives
Editor's Note: Visitors to the Florence Griswold Museum often wonder if the founder of the Old Lyme Art Colony was herself an artist.    
The only known original artwork by Florence Griswold (1850-1937), aside from the fine-lined drawing of a harp she contributed in 1878 to the Old Lyme minister's autograph book, is a small watercolor sketch on a postal card. She titled her painting "Moonlight," signed it with her initials "FAG," and mailed it on August 30, 1905, to Miss Helen Clark, Lyme, Conn. [1]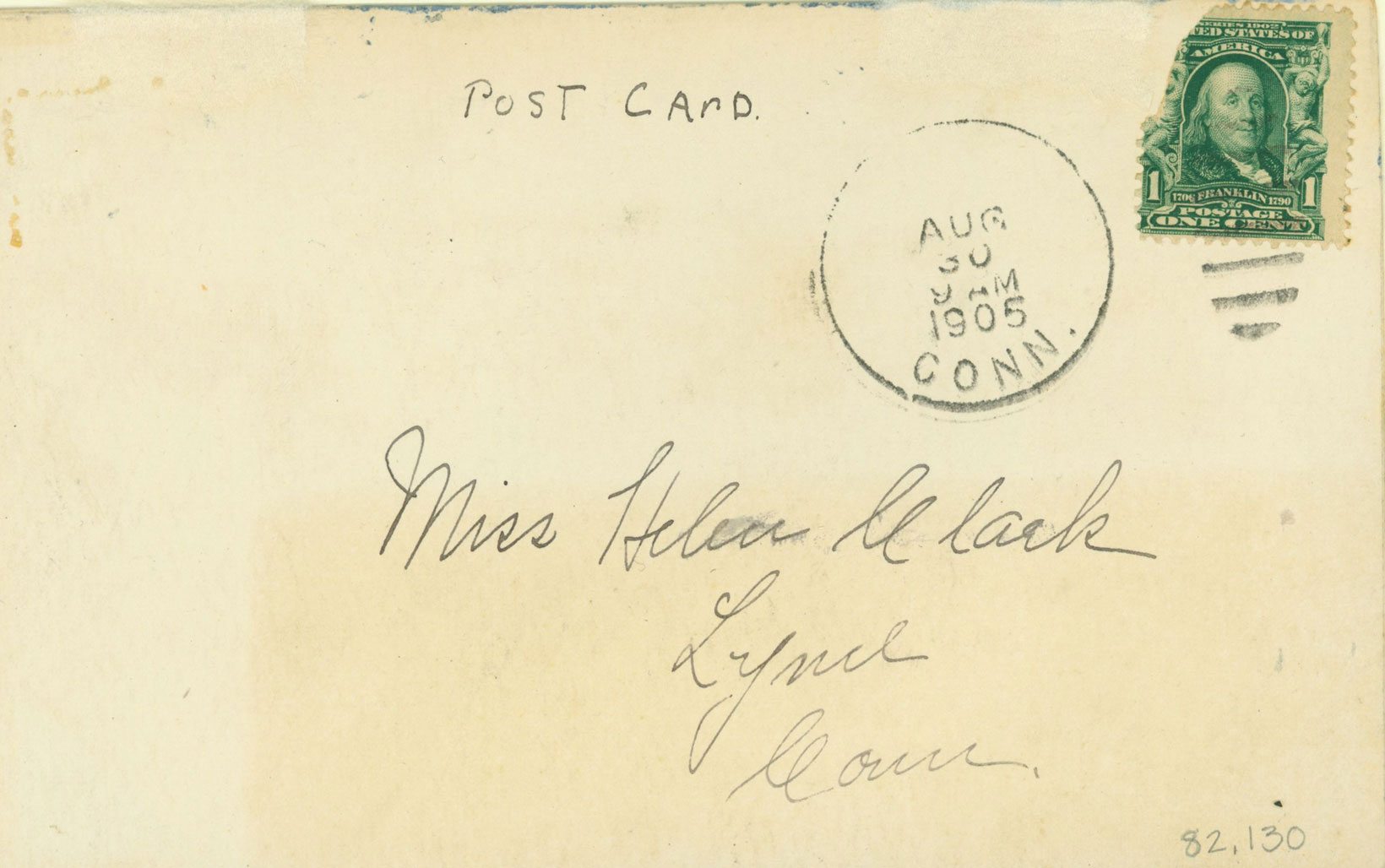 Postcard mailed to Helen Clark, 1905, verso
Inscribed on the postcard is an affectionate message. "Dear Helen," Miss Florence wrote: "Hope you will like this little scene. Of course I am not an expert. Should like a pretty one in return, & since this is colored should like mine colored. Lovingly, Florence."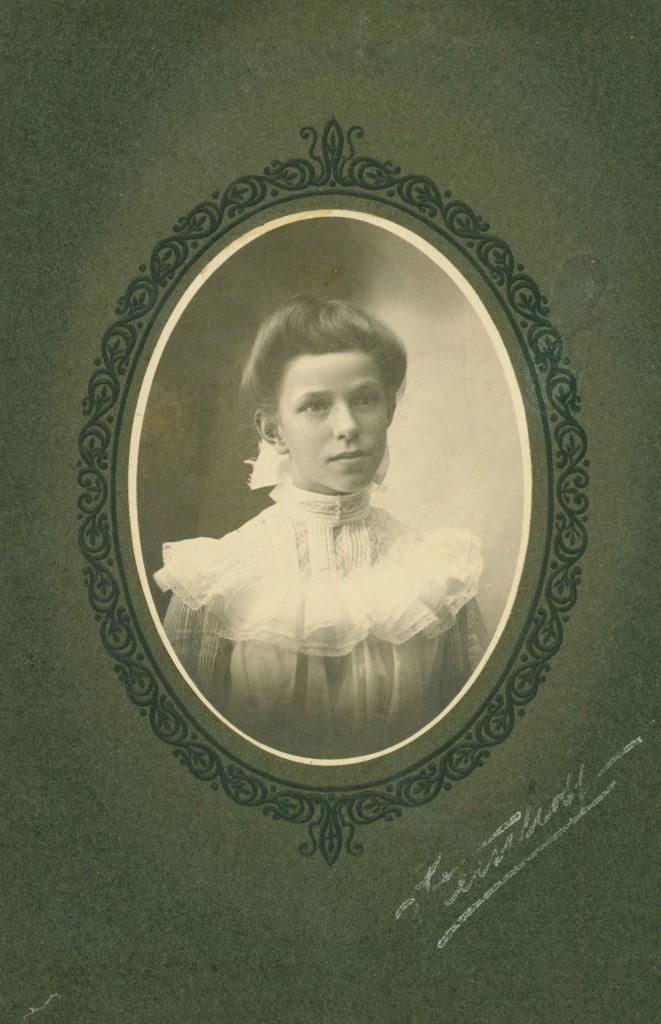 Helen Clark, ca. 1908. Courtesy Janet York Littlefield
By 1905 the Old Lyme art colony was well established. That summer Childe Hassam (1859-1935) painted his third portrait of the celebrated village church, and both Frank Vincent DuMond (1865-1961) and Will Howe Foote (1864-1965) taught art students who boarded in town, among them Woodrow Wilson's wife Ellen Axson Wilson (1860-1914). Miss Florence's watercolor sketch may well have benefitted from the guidance of Frank DuMond, who included the techniques of nocturnal landscape painting in his summer art classes.[2]
The "little scene," perhaps an evening view of Essex across the Connecticut River, captures the glow of a fading sunset as a full moon hovers above silhouetted hills. Moonlight casts a luminous path across the water, and stars glittering in the night sky shimmer in the quiet ripples. Even if not "an expert," Miss Florence, then 64, used both pen and brush with admirable skill, having studied music and art at a small private school in New London as a young woman.
Helen Clark (1892-1986), then 13, lived with her family a short distance from Miss Florence's home and attended the Old Lyme graded school. The artists who gathered in the village regularly patronized her father's general store and collected both mail and news at his adjoining post office. At W. F. Clark's they bought newspapers, post cards, dry goods, and ice cream, and family members recall that as a schoolgirl Helen not only helped in the store but also "helped Miss Florence."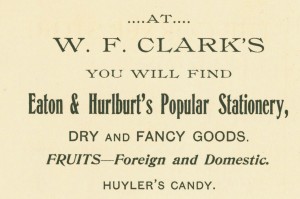 Advertisement for W.F. Clark's, The Boxwood Circle, 1905. LHSA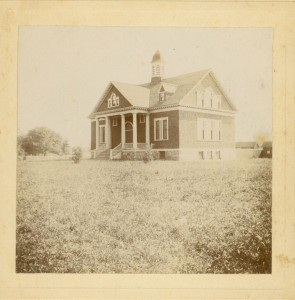 Old Lyme Graded School, ca. 1895. LHSA
Whether she ever responded with a pretty postcard in return is not known. Despite Miss Florence's encouragement Helen never pursued painting, but she did acquire from her caring older friend a love of learning and an independent spirit. With one other girl from the local eighth grade class, she moved on to attend a private girls' school in New London that emphasized the liberal arts. After graduating from Williams Memorial Institute, Helen worked as assistant to Katharine Ludington, who in 1916 led the fight in New London County, and later statewide in Connecticut, for a woman's right to vote. By then the suffrage movement had divided the women of Old Lyme, and Miss Florence joined the local group that vigorously opposed the suffragists' efforts.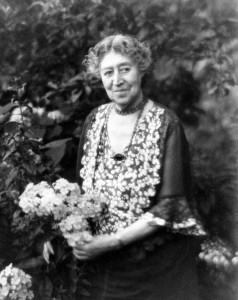 Florence Griswold, ca. 1915. LHSA
Florence Griswold remained closely engaged with community affairs throughout her life, but it is her nurturing of artistic talent that left a lasting heritage. For many years the small painting "Moonlight" that she sent to Helen Clark in 1905 hung in the hallway of the museum that today honors her legacy. The postcard reminded visitors that the patron of the Lyme art colony, an accomplished harpist who for more than a decade had taught music to students attending her family's home school, continued to serve as a caring mentor to younger women and, on at least one occasion, revealed her own skill at landscape painting.
---
[1] Special thanks to Janet York Littlefield and Linda Legassie for generous assistance.
---
[2] Bruce W. Chambers, May Night: Willard Metcalf at Old Lyme (Old Lyme, 2005), p. 46.