Social & Solitary: Reflections on Art, Isolation, and Renewal
June 5-September 19, 2021
The Museum will be closed Sunday, April 9 in observance of Easter.

This exhibition has been made possible by generous support from Connecticut Humanities, the Department of Economic and Community Development, Connecticut Office of the Arts, 

HSB, 

Ms. Barbara Smith, 

Mr. Andy Baxter, 

The Vincent Dowling Family Foundation,

Roy & Deborah Moore, 

Mr. & Mrs. J. Geddes Parsons,

Mr. & Mrs. Richard H. Booth, 

Bouvier Insurance, 

Wayne & Barbara Harms,

Jeb & Dianne Embree, 

Dr. Margaret O'Shea & Mr. Daniel O'Shea

, Jonathan & Deborah Butler 

as well as donors to the Museum's Annual Fund.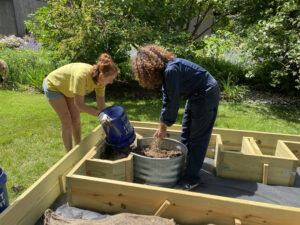 As part of our current exhibition, Social & Solitary the Museum collaborated with the New Orleans-based artist jackie sumell to install one of her "Solitary Garden" beds on our grounds. Volunteers worked with the artist to create the fixtures and plant the garden. Learn more about the project…
About the Exhibition
In the spring of 2020 the Covid-19 pandemic brought the world to a standstill, requiring people worldwide to shelter in place. With our health and safety at risk we were forced to social distance and cease physical interaction with anyone outside our immediate households. In a matter of days the world experienced a tremendous loss of life, livelihood, and economic security. As a consequence, families, businesses, and other institutions like museums have had to cope with a new reality. What are the implications of an interconnected, socially dependent world forced into solitary confinement? How do we as a museum function as a partly virtual entity? What is the role of art?
Throughout history, art has served as a vehicle for processing the complex events and emotions tied to the trials and tribulations of humanity. Artists produce artworks to serve a function—one that is largely determined by the social circumstances of its public. Today audiences may use art to learn about and contemplate the past as well as to reflect on our contemporary moment. The global crisis caused by the coronavirus spurred many changes in our society, including the sudden redefinition of the meanings of being social, solitary, and both at once. We found ourselves immediately alone, together.
Social & Solitary presents historic and contemporary works from the Museum's collection that reflect on what our world has faced over the past year. As an institution guided by empathy for our audience, we seek to create an opportunity for them to process this momentous, ongoing event. The Museum hopes visitors will use the exhibition, its gardens and grounds, and a new outdoor installation by contemporary artist jackie sumell, as a place to heal from all we've endured — to share with friends and family, or simply to enjoy art and nature on their own.
Image: John M. Tracy, Botany, 1891. Oil on canvas, 16 x 24 in. Florence Griswold Museum, Bequest of Arthur J. Phelan, Jr.