Collections
In Situ: The Painted Panel
The Museum will be closed Sunday, April 9 in observance of Easter.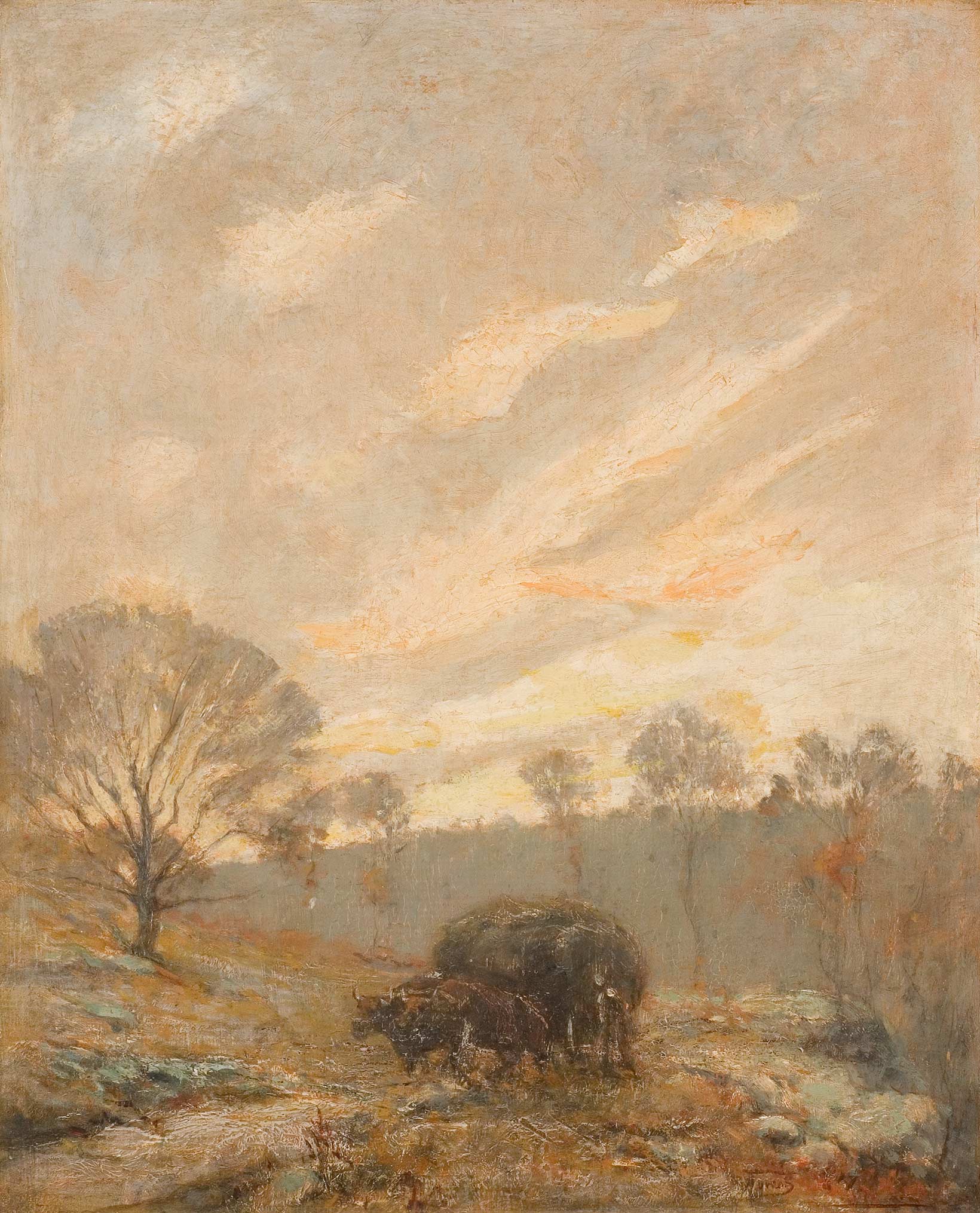 Jules Turcas (1852 – 1917)
Landscape with Oxen
Jules Turcas, a proponent of Tonalism, chose a bucolic autumn subject for his dining room panel, a farmscape that he bathed in a misty sunset light and painted in a subdued range of grays and browns. It is typical of his work. The expansive cloud-streaked sky has a feeling of movement and transience, while the ox team, the loaded wagon, and the land itself provide a strong contrast of mass and weight. Animals, wagon, and the human figure all but blend into a single form. Young trees, curving in a row behind and around in a kind of embrace, are reminders of the nurturing quality of nature, for one expects these trees to grow and become verdant again in the spring. Even a picture like this, more conservative than the work of the Impressionist artists at Old Lyme, relies more on suggestion rather than on close detail and has the light touches of Impressionism in some of the brushwork, as in the bits of orange and spots of white.
Turcas may have been feeling nostalgic, for few oxen were still used in Connecticut in the early 1900s.
Some, however, were to be seen on a farm owned by Louis Dessar, a fellow Old Lyme artist and Turcas' neighbor on Grassy Hill, where he and his artist wife Ella settled in 1904. Both men loved Tonalism, a realistic American art form employing only a few, usually dark, tones in order to create a sense of mild melancholy or time gone by. Tonalism was inspired by the art of a half-century earlier in the village of Barbizon, France, but while the French paintings spoke of the hard life of peasants, Tonalism is more about respecting the values of pre-industrial America, which made the nation special and could keep it steady in a rapidly changing modern world. Turcas' Potato Harvest in the Museum's collection is another painting in this romantic vein.
JULES TURCAS (1852-1917)
LANDCAPE WITH OXEN
OIL ON WOOD PANEL
GIFT OF THE ARTIST
In the early 1900s an art critic wrote that Jules Turcas was someone whose career "the public was watching expectantly." Yet today very little is known about him beyond his noteworthy exhibition record, which apparently began in 1893, and a few personal facts. Born in Cuba in 1852, he was in the U.S. by the next year. In 1880 he was still single and working in Manhattan as a tobacco dealer.
Later, when not at Grassy Hill, he lived surrounded by artists, including several Old Lyme associates, in a mid-Manhattan studio building. He was a founder of the Allied Artists of America, a group formed in 1914 to promote American art, despite the reality that the Armory Show in New York the year before had demonstrated that European art had become more innovative than any in America.