Collections
In Situ: The Painted Panel
The Museum will be closed Sunday, April 9 in observance of Easter.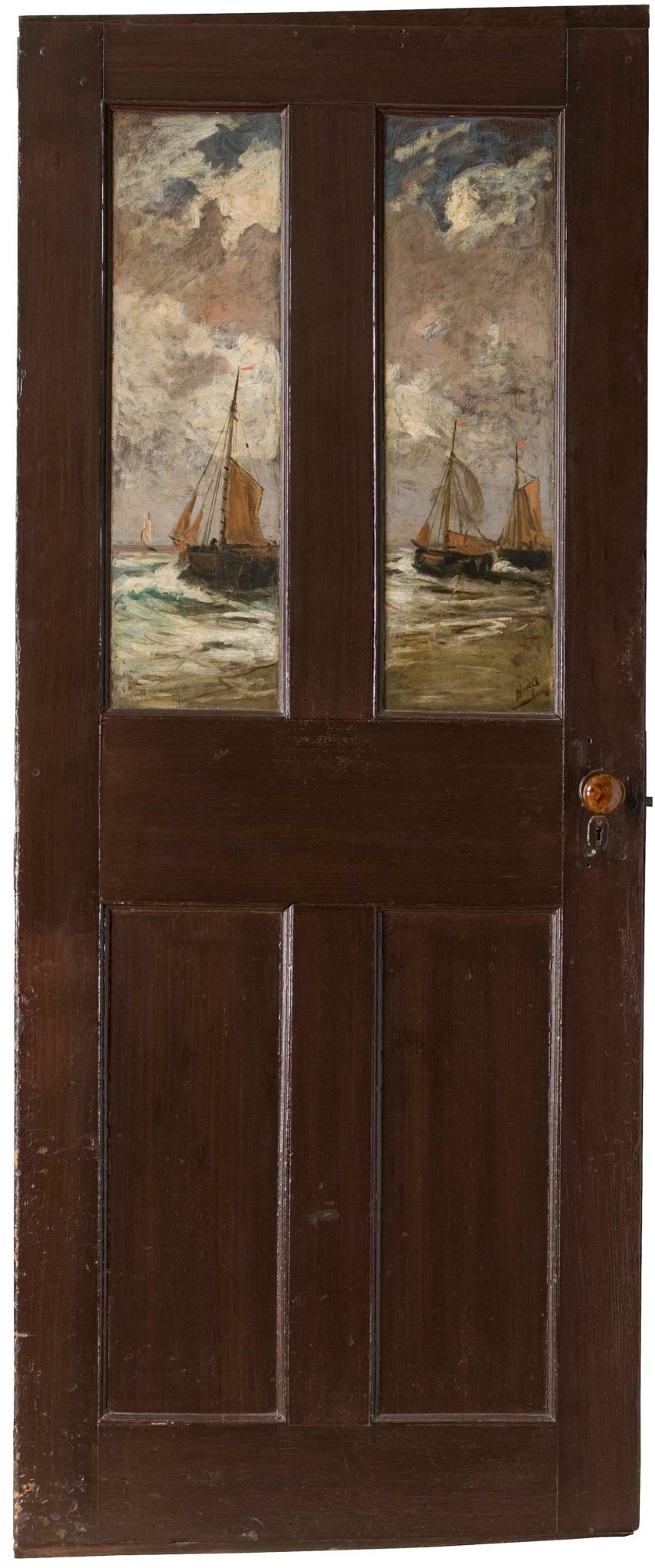 William Henry Howe (1846-1929)
Dutch Fishing Boats Off Shore
After painting the majestic bull on a door in Florence Griswold's parlor in 1901, William Henry Howe moved to the back of the house and at some point painted the door leading into the dining room. Perhaps because Matilda Browne had already portrayed two calves on a door nearby, Howe chose a scene like those he had witnessed in the 1880s in the Dutch village of Scheveningen on the North Sea, where the fishing fleet employed unusual flat-bottomed boats known as bomschuiten, which were dragged onto the beach to dock. Artists had been painting this picturesque village and its charming fishing boats for centuries. When this door is closed, the entire dining room is encircled in painted panels.
Howe transformed the flat panels of the door into a window that takes one out to open sea where boats are following one another in a kind of formation. Their sails are in various states, but the three vessels all seem intent on the same destination. With so much foam on the water and heavy dark clouds overhead, they could be heading to shore to escape a coming storm – note how the wind tears at the orange flags atop each mast. A tonalist painter, Howe has employed a limited palette of grays and browns, sharpened with patches of white from bottom to top, to create a scene with a dramatic flair. Tonalist landscapes usually have an air of melancholy or they inspire meditation, but this tonalist seascape, with its turbulent big sky and a sense of movement, has a more invigorating effect.
Howe's marine adds a special flair to the art that adorns the dining room and demonstrates the versatility of this famous painter of cows.
Perhaps he knew that these boats were about to become history, for a series of bad storms had convinced both the fishermen and the many bathers who flocked to Scheveningen's beaches to build a protective harbor. On its completion in 1904, the bomschuiten were almost instantly replaced by more modern ships.
WILLIAM HENRY HOWE (1846-1929)
DUTCH FISHING BOATS OFF SHORE
OIL ON WOOD DOOR PANELS
GIFT OF THE ARTIST
The culture and climate of northern Europe captured the imagination of other Old Lyme artists as well.
Henry Ward Ranger painted a coastal scene titled Dutch Harbor (c. 1890) and Henry Rankin Poore painted a canal scene inspired by northern European city. Howe's exhibition history and prize list is long and impressive, dating from the early 1880s to about 1920. He had studied at the Royal Academy in Düsseldorf, Germany, and with several important artists in Paris. He was elected to membership in the National Academy of Design in the 1890s and was named a Chevalier of the French Legion of Honor. In his early years, before "Howe's Cows" had become famous, he had also found time to be a businessman, engaged in cabinetry and wood turning.