Collections
In Situ: The Painted Panels
The Museum will be closed Sunday, April 9 in observance of Easter.
George Glenn Newell (1870 – 1947)
Cow Resting in Meadow
Glenn Newell was only in Old Lyme in 1906 and exhibited that fall at the annual end-of-season exhibition with the other art colonists at the local library. He was known for his paintings of cattle and sheep, so an image of a cow was a natural choice for the painted panel he added to the wall of the Griswold House dining room.
Newell could readily have found a cow to paint in or near Old Lyme, and perhaps he did. Some local farmers eagerly offered their stock as models. In this instance, however, he seems to have worked at least partly from sketches and memory, for the back of the panel is marked with his name, his Carnegie Hall studio address, a date of June 28, 1906, and the notation "Near Schiedam, Holland."
He might have been replicating an earlier work done in Holland. In any case, he painted the flat landscape and low horizon common to the Netherlands but not to Old Lyme. Positioning the reclining cow off-center enlivens the quiet scene, as does the cow's expressive eye, as though the animal is observing something interesting. Newell created more vivacity in the scene by means of loose brushwork, the diagonal white streak of a water-filled ditch reflecting the overcast sky, and especially by the calligraphic marks made by a stiff brush allowing the wood of the panel to show through the startlingly white sky. Each of these artistic choices provides an unexpected and somewhat abstract foil to the life-like Holstein cow. Another cow rests across the dining room in a collaborative panel painted by Henry Rankin Poore, Walter Griffin, and Childe Hassam.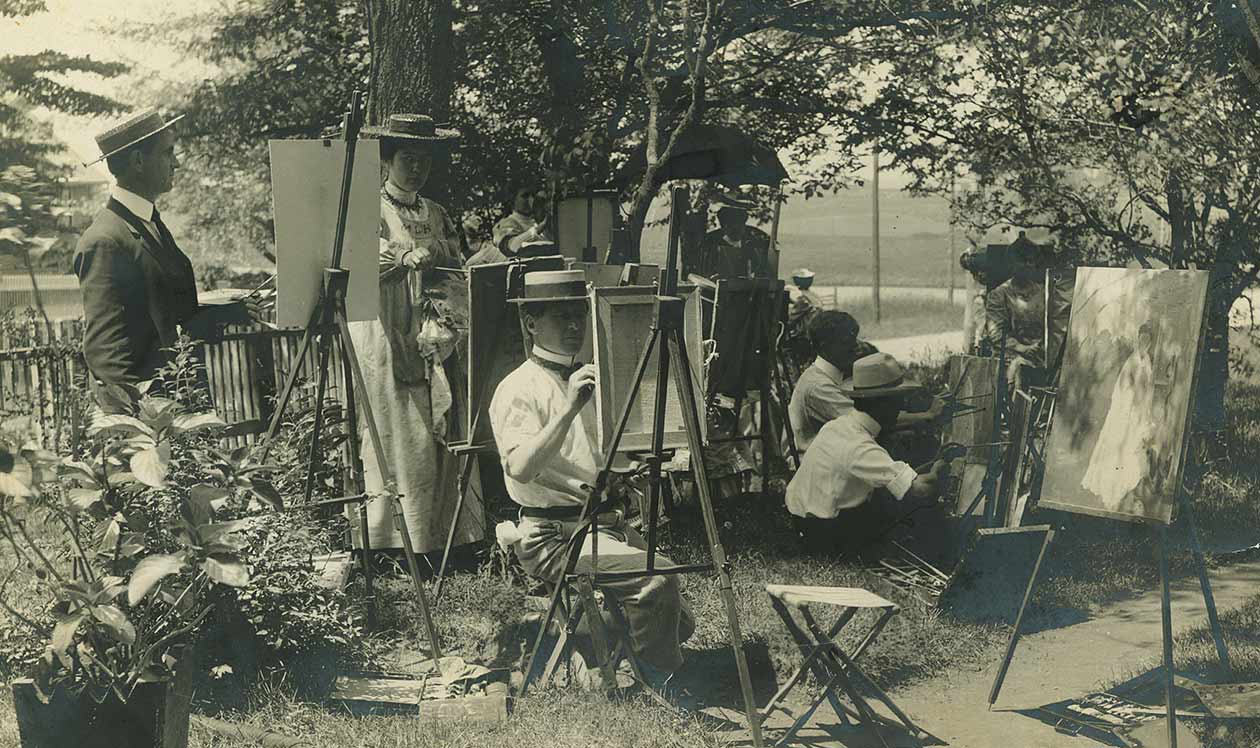 After a period of study at the National Academy of Design, Newell attended Columbia University with William S. Robinson and the cattle painter William Henry Howe, both of whom were regulars in Old Lyme during in the summers.
Perhaps their previous association with him explains why Newell was given the esteemed honor of painting a panel on his first, and perhaps only, visit. He had already begun to build a good exhibition record, however, and was awarded a major prize by the Salmagundi Club of New York this same year. Newell's career continued to flourish after his brief stay at Old Lyme, and his work is in several museum collections today.
The men and women paint and the sheep and cattle exist for the sake of being painted and, upon the approach of a stranger, arrange themselves in picturesque groups, while the artist fixes his camp chair and white umbrella. The town has been known as an ideal place for artist for some time, and its wind-swept pastures, winding roads, and glimpses of the Sound have been the delight of artist these dozen years.

— UNIDENTIFIED WRITER FOR ARTICLE PAINTINGS AT LYME: EXHIBITION FOR BENEFIT OF LOCAL LIBRARY,1903